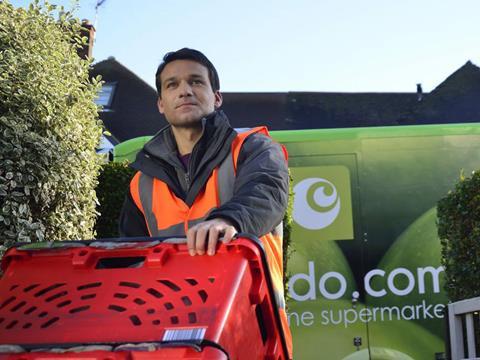 Top story
Ocado Retail, the joint UK grocery venture between Ocado (OCDO) and Marks & Spencer (MKS), has posted growth of 10.8% in the fourth quarter driven by a double-digit jump in order volumes.
The retail growth of 10.8% to £429.1m in the 13 weeks to 1 December is slower than the third quarter growth of 11.4%, but an improvement of the 9.7% growth posted in the first half of the year.
The online delivery venture saw 10.4% growth in average orders per week to 350,000, while average order size was flat at £104.90.
Ocado also said its post-M&S tie-up range review has been completed, confirming that M&S has substitutes at the same price or lower, and of the same quality or better, for the majority of those currently supplied by Waitrose
Waitrose lines currently which represent just over 4,000 products out of the current total range of over 55,000.
Ocado said it also anticipates adding many more additional M&S lines to the range
Additionally, its Erith CFC continues to ramp operations and ended the period at over 70,000 orders per week with efficiency better than its Hatfield CFC.
Ocado Retail CEO Melanie Smith commented: "I am pleased to report further progress in bringing the Ocado offer to an ever increasing number of customers in the UK. Another strong quarter for customer orders means that we remain the fastest growing grocer in the country. The collaboration between M&S and Ocado Group is working well.
"We have made good progress preparing for switchover date in September 2020, when the M&S food range will be available online for the first time. We are also planning fresh capacity, to offer customers more availability, and have new customer fulfilment facilities in Bristol and Purfleet, and a rebuilt state of the art facility at Andover, on the way. As a team, we could not be more excited".
Morning update
Nestlé (NESN) has sold its US ice cream business to Fromeri, the ice cream-focused joint venture Nestlé created in 2016 with PAI Partners, in a deal valued at $4bn.
Nestlé and PAI Partners merged Nestlé's European ice cream business in 20 countries and PAI-owned R&R to create Froneri in 2016.
Froneri, which already had operations in Europe, Latin America, Africa and Asia-Pacific will now have a strong presence in the U.S., the largest ice cream market in the world. The recent acquisitions of TipTop in New Zealand and Nestlé's ice cream business in Israel have also increased Froneri's growing global footprint.
In 2018, turnover of Nestlé USA's ice cream business was $1.8bn from brands like Häagen-Dazs, Drumstick and Outshine. Nestlé said the business commands leadership in key ice cream categories, notably super premium.
Mark Schneider, Nestlé CEO, commented: "The creation of Froneri has been a phenomenal success. We are now making this business our global strategic partner in ice cream and are convinced that Froneri's successful business model can be extended to the U.S. market. With this transaction, we are taking a decisive step towards our goal of achieving global leadership in ice cream."
Ibrahim Najafi, Froneri CEO, said: "This is another milestone acquisition for Froneri as we drive towards becoming the world's best ice cream company. We're delighted to be bringing such well-loved U.S. brands into the Froneri family. The acquisition is testament to the strength and longevity of our relationship with Nestlé. This partnership and the continued support of PAI Partners will be essential to ensuring we continue to delight consumers with innovative, high quality products in all markets."
The transaction is expected to close in the first quarter of 2020, following the completion of customary regulatory approvals.
Nestlé will continue to manage its remaining ice cream businesses in Canada, Latin America and Asia as part of its current market structure.
Beauty products provider PZ Cussons (PZC) has announced its CEO Alex Kanellis will retire from the business on 31 January 2020 after over a decade in his role.
Kanellis has been with the Company since 1993 and has been CEO since 2006. During that time he has overseen significant development of the group, including the operational restructuring of the business, the creation of the Beauty division, the development of the joint venture businesses in Africa and, most recently, the resetting of the group's strategy to begin the process of returning the group to profitable growth.
PZ Cussons said a search for his successor has been initiated and the process is expected to be completed in the first half of 2020.
Pending the appointment of the new CEO, Caroline Silver will become executive chair with effect from 1 February 2020. Alan Bergin will continue as interim CFO.
Silver said: "The Board would like to thank Alex for his lifetime of service to PZ Cussons. During his 13 year tenure as CEO, Alex has led numerous initiatives which have shaped the business, including the acquisition of the brands which now underpin the group's growth and future potential. The group is now ready to move onto the next chapter under new leadership and we are confident that the opportunities to return to profitable growth are significant."
Kanellis added: "It has been a privilege to serve the company and the board as CEO and I am proud to have worked with so many fantastic people across the business over many years.
"The company has a stable of great brands and enjoys strong long term relationships with partners across all regions but, above all, it is our unique CANDO culture and our people which makes PZ Cussons special and which, as I retire from the company, gives me the confidence that the business has a bright future ahead."
Meanwhile, PZ Cussons has announced its six month trading period to 30 November will see a decline in first half revenue and operating profit amid "challenging market conditions across key geographies".
In Europe & the Americas, whilst Imperial Leather and Original Source continued to demonstrate market share growth, continuing consumer uncertainty and well-documented challenges in the UK high street adversely impacted overall revenue and profit. Results remained solid in Beauty with continued growth in retail sales of St Tropez in the USA.
In Asia Pacific there was continued good revenue and profit growth in Indonesia driven by Cussons Baby, offset by lower revenue and higher promotional costs in Australia. The region was also adversely impacted by higher manufacturing costs related to raw materials and the strengthening of the Indonesian rupiah.
Africa revenue declined due to weakness in our mass market Home and Personal Care brands offsetting strong growth in Electricals. Profitability was impacted by continued consumer pricing pressure, continuation of charges associated with the Port in Lagos and the closure of the borders limiting exports.
However, a stronger second half is expected "subject to no further worsening of the economic and trading environments across our key geographies".
Full year revenue and adjusted profit before tax is expected to be modestly below the prior year on a like-for-like basis.
On the markets this morning, the FTSE 100 has opened up 0.5% to 7,248.9pts.
Ocado is up 0.3% to 1,201p and M&S is up 0.3% to 207.9p.
PZ Cussons is down 0.6% to 192.6p, while Nestlé is up 0.1% at CHF103.08.
Other risers include DS Smith, up 1.4% to 378.5p, Pets at Home, up 0.8% to 271.8p and PayPoint, up 0.7% to 951p.
Fallers include Associated British Foods (ABF), down 1.9% to 2,433p, British American Tobacco (BATS), down 1% to 2,966p and Kerry Group (KYGA), down 0.9% to €113.10.
Yesterday in the City
The FTSE 100 ended Wednesday flat at 7,216.3pts ahead of today's UK general election.
The supermarkets continued to fall after Tuesday's disappointing market share figures, with Morrisons (MRW) down 2% to 193.2p, Sainsbury's (SBRY) down 1.4% to 217.4p and Tesco (TSCO) down by a more modest 0.3% to 239.7p.
PZ Cussons fell 3.1% to 193.8p ahead of this morning's trading update and the exit of its CEO, while other fallers included Bakkavor, down 3.5% to 137.4p, AG Barr (BAG), down 1.8% to 555p, Britvic (BVIC), down 1.7% to 905p, PayPoint, down 1.7% to 944p and Premier Foods (PFD), down 1.4% to 38.4p.
Risers yesterday included C&C Group (CCR), up 2.1% to 395p, McBride (MCB), up 2% to 81.6p, DS Smith (SMDS), up 1.4% to 373.3p, SSP Group (SSPG), up 1.3% to 645p and Coca-Cola HBC (CCH), up 1.1% to 2,501p.