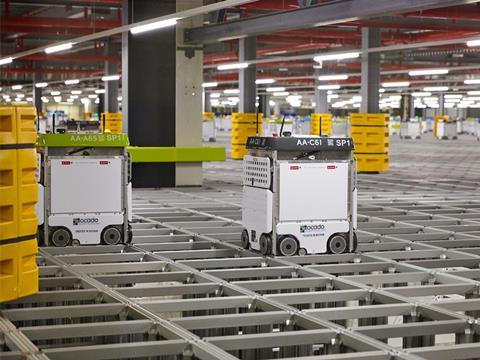 Ocado (OCDO) may have had to turn away willing customers and shut down its website as it struggled to cope with a wave of demand during the coronavirus crisis, but its share price still hit new record highs on Wednesday as the City was reassured by its humongous sales growth.
Despite the capacity constraints, Ocado said its second quarter retail sales were up by 40.4% so far – much higher than analysts had predicted and almost quadrupling the 10.3% growth in the first three months of 2020. It said it had ramped up capacity, with its mature customer fulfilment centres running at peak production.
While the number of items per basket appears to have passed its peak with the return of more normal shopping behaviours, Ocado CEO Tim Steiner said the crisis should further accelerate the "long-term shift towards online grocery".
As such, Ocado scrapped its guidance of 10%-15% growth, suggesting that full-year sales were likely to be higher.
CFO Duncan Tatton-Brown said the group was seeing additional costs related to staffing and the scaling up of its international solutions business. However, the higher retail sales should mitigate the extra expenses, leaving EBITDA expectations largely unchanged.
Peel Hunt welcomed "a very positive surprise performance" from Ocado, noting the results show "their ability to ramp up to cope with demand has dramatically improved, which will give its existing and potential clients more confidence for future growth."
Bank of America suggested that the current crisis also shows the long-term benefits of its automated picking model: "In-store picking has been challenged with availability of products and quality of service sometimes not following demand's need, validating, in our view, the centralised and automated model developed by Ocado,."
Analysts also noted that Ocado's £1.2bn in cash on its balance sheet also pointed to its ability to continue to fund the growth of its international partnerships.
Ocado shares surged a further 4.5% to 1,754.5p by Wednesday lunchtime, setting another all-time share price high on the way.
Its retail partner Marks & Spencer (MKS) saw its shares rise 1.7% to 88.5p on Wednesday, but the stock is down almost 60% in 2020 so far given its exposure to clothing and general merchandise.