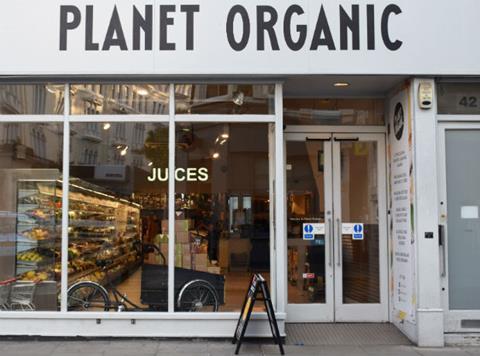 Upmarket London grocer Planet Organic boasted 9% sales growth in its most recent financial year, but the chain remained loss-making as it continued to invest in growth.
After opening its seventh store in the previous financial year, headline sales were up 9% to £30.7m in the 12 months to 26 August 2017 from £28.1m.
This growth represented a like-for-like sales jump of 4% "despite strong competition in the supermarket industry" and also reflected 30% growth in its e-commerce business, which was launched in October 2015.
Wholesale sales reduced overall due to the termination of distribution rights for a third part product range, but grew strongly in the Middle East.
Planet Organic fell to its first loss in four years in the 2015/16 financial year, posting a pre-tax loss £392k having recorded a profit of £428k in the previous financial year as the cost of opening its seventh London store affected profitability.
The most recent financial accounts show an improvement in the bottom line, with EBITDA rising by 20% from £492k to £590k.
However, the group remains in the red after posting a pre-tax loss of £323k during the year.
Gross profit margin reduced to 5% from 5.5% in the previous financial period.
Average headcount during the year rose from 299 employees to 311 as its wage bill rose 7% to £6.9m.
The Telegraph reported in 2017 that the private owners of the Planet Organic were exploring a £50m sale of a chain and had hired corporate advisers Spayne Lindsay to lead the process.
Planet Organic was founded by US native Renée Elliott in 1991.