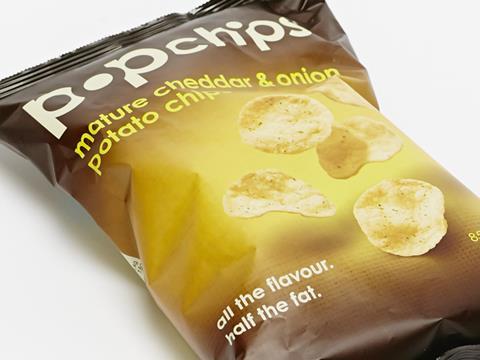 Healthy crisp brand Popchips saw sales rocket 36% in 2017 despite intense competition for shelf-space in the snacking category, prior to its July 2018 acquisition by KP Snacks.
The Intersnack arm reiterated plans to invest in the Popchips' European business to maintain rapid growth, after purchasing it for an undisclosed fee.
Popchips sales jumped to £14.3m for the year ended 31 December 2017, up 36% from £10.4m sales in the previous year, after improved volumes.
Despite sales growth, investment to scale up the business and a royalty charge to US parent company meant the supplier made a £599k pre-tax loss.
Gross profit margins leapt 2.7 percentage points to 39% after "operating efficiency" improvements, which are planned to continue through 2018.
"KP are going to continue to invest to keep the brand growing ahead of the category, and continue to support the brand," said Popchips Europe MD Will Bowler.
"They are not scared to invest heavily in order to drive the company forward in the long term. Popchips is in a great position to continue to progress.
"We are one of the only company's in the category to have not put a cost increase through to the consumer, despite commodity price increases.
"There is still an awful lot of potential for us as a brand, so we expect to grow the core part of the brand and reach new people."
Popchips launched in the UK in 2012, five years after it was created by Keith Belling and Patrick Turpin in the US. The North American and international arms of the business remain part of Popchips Inc.