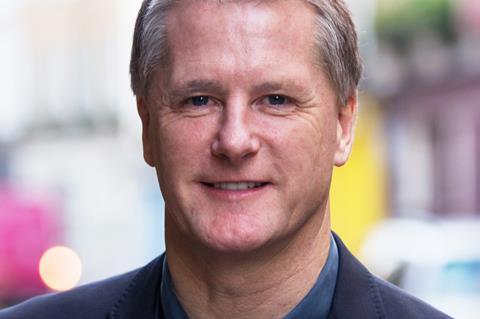 Morrisons CEO David Potts said today there had been "no Boris bounce" for supermarkets after the election, as he warned consumer uncertainty would continue until Brexit was sorted.
He blamed "challenging conditions and a year of uncertainty" for a tough set of results for the supermarket, which saw sales excluding fuel down 1.7% in the 22 weeks ending 5 January. Falling retail sales accounted for the decline, with wholesale performance flat.
Potts also said the supermarket would be reconsidering its decision to rein back its promotional activity for Black Friday. Morrisons ditched its annual Black Five Days event last year.
He said the lacklustre results this Christmas appeared to show that the event had been "more of a springboard than we'd assumed".
For Q3, sales excluding fuel were down 1.2%, mostly accounted for by a drop in retail sales compared with the same period a year ago.
However, Potts stressed he was confident about Morrisons' growth plan. He said the Christmas results were a sign of an ultra-competitive market rather than its individual failures.
Revealing the results today, Potts said there had been no positive impact on sales after the general election.
"Trading conditions remains challenging and the uncertainty we've seen through the past year continued right through the period," he said.
Explaining that Morrisons had traditionally used its Black Friday week of deals as a "springboard to Christmas trade", he said: "We decided this year not to take part in that and we've realised we probably relied on that springboard a little more than we'd assumed."
Potts said the lack of confidence in the market had meant this Christmas was "much more competitive" than last year, with Morrisons facing brutal competition on deals across areas such as beers, wines & spirits, petrol and couponing activity.
He added: "I think there's going to be uncertainty in the market until Brexit becomes clear. Brexit has had a Christmas break but will be back I'm sure."
Morrisons claimed it had been more competitive than last year in its prices and had seen positive take-up of promotions. These included its three British veg for £1 – the only offer to include 2.5kg of maris pipers – in what Potts called a "knockout deal".
Meanwhile, Potts cited lower sales at Morrisons' wholesale partner McColl's for the flat performance in wholesale. But he said sales at the first 10 conversions from McColl's to Morrisons Daily convenience stores had been strong, with the trial set to be extended to another 20 stores by the end of February.
Bernstein senior analyst Bruno Monteyne said the figures were not as bad as some experts had forecast, adding: "If that is reflected across the other retailers, that should be positive news for the UK food retailers."
Shore Capital analyst Clive Black said Morrisons had been "quite cautious" in the face of a "much more promotional" market, adding: "We expect trading tactics to form part of the learnings management is currently reflecting upon."