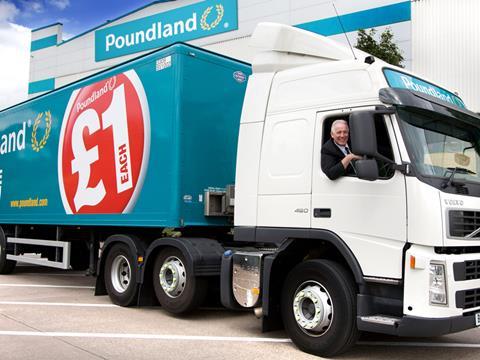 Poundland (PLND) shares plunged 20% in early morning trading to a record low after the discounter posted a hefty fall in profits and declining like-for-like sales in the first half.
The stock reached a low of 216p – before rebounding slightly to 231p – well below the 300p IPO price of March 2014 and the 421p-high in February when news broke of the 99p Stores acquisition. It means Poundland is now valued at about £580m – almost half the market cap of its February highs.
The volatility suggests investors are unsure about the value of the 99p Stores deal, which completed on 28 September. Chief executive Jim McCarthy managed to maintain an upbeat tone after announcing like-for-likes down 2.8% in the six months to 27 September, compared with a 4.7% increase for the same period the previous year. Pre-tax profits plunged 43.5% to £5.3m as the group went head to head with the huge growth in the bottom line caused by the loom band craze a year ago.
Total sales jumped 6.2% to £561.1m as the chain opened 52 net stores to boost the estate to 640.
McCarthy said an incremental EBITDA opportunity of at least £25m had already been identified from the 99p Stores deal. However, the conversion of 99p Stores is being accelerated, with the majority to start trading as Poundland by April after sales in the 99p estate deteriorated thanks to stock problems.
McCarthy added that early sales from converted stores had proved "encouraging".
He also increased the target for overall stores in the UK and Ireland by 40% from 1,070 to 1,400 – with 30 stores opened in September alone.
"The 99p Stores acquisition is a transformational deal for us, adding the equivalent of five years of UK organic growth and 40% to our store numbers in one go," McCarthy said.
"The sales comparables in the second half are softer and our Christmas range is our best ever."
The group expects sales to improve from the acquired 99p portfolio as it converts to the Poundland format, driven by its "superior" product offer and range, better customer service and improved stock availability.
McCarthy acknowledged the all-important third quarter now underway had seen "highly volatile" trading conditions so far and its performance depended "more than ever" upon the last six weeks leading up to Christmas.