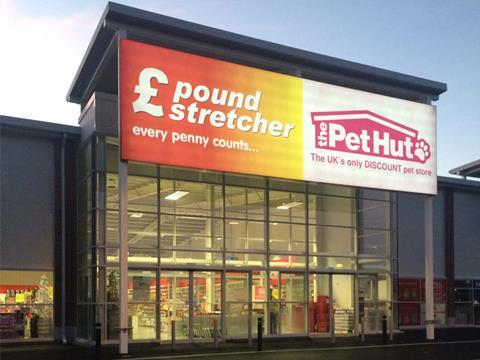 Sales and profits have gone into reverse at Poundstretcher as the variety discounter closed smaller, older stores at a faster rate than it opened newer, larger sites.
The business, owned by the Tayub brothers' Crown Crest Group, closed 30 shops in the year to 31 March 2016 as part of its expansion strategy to upgrade its portfolio to more modern sites, with 16 new openings leaving the estate at 390-stores strong.
Revenues fell £9m (2%) to £429.5m, with a small rise in distribution costs to £22.9m weighing on profits. Operating profits slipped from £2.9m in 2014/15 to £1.7m and pre-tax profits came in at £2.4m, compared with £2.8m in the previous year. Its underlying earnings were flat at £10.6m, accounts filed at Companies House revealed.
"It has been the company's policy to try and close older, smaller stores in less attractive locations, whilst opening new stores which are larger, modern stores in prominent out-of-town and retail park sites," the report said.
Poundstretcher has ambitions to grow its portfolio of stores to 600 by 2018.
An expansion of fmcg and grocery lines across its outlets and an extensive refit programme has helped the business grow rapidly in recent years. Sales jumped 11% to £438.3m in 2014/15, with pre-tax profits more than doubling as it shrank costs.
Discount wholesaler Crown Crest has also introduced its Pet Hut offering inside a large proportion of the Poundstretcher estate as it vies to compete with Pets at Home, as well as expanding the number of standalone discount pet shops.
Poundstretcher MD Ian York left the business in January 2016 to be replaced by Gerry Loughran, who was merchandising and marketing manager at 99p Stores.
Crown Crest Group Ltd sales also fell in the year to 31 March 2016 from £470.9m to £449.4m, with pre-tax profits down £1.4m to £4.8m.
Just before the year end in March, Poundstretcher launched a fixed-price model under the new Pound Deals fascia, with five initial stores. The concept sells personal toiletries, household cleaning products, homeware, DIY, car care and baby products, party-ware and stationery, as well as a range of ambient, chilled and frozen food & drink lines.
Poundstretcher MD Gerry Loughran told The Grocer at the time that he was planning to grow the business to a total of 50 stores within a year.