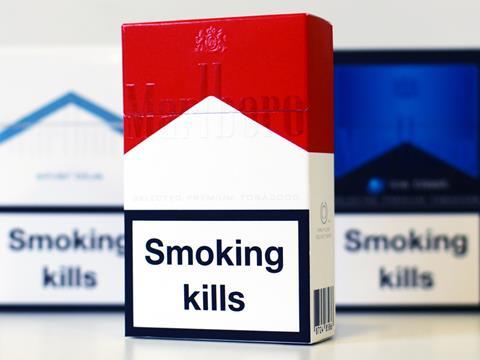 Net revenues at Marlboro cigarette maker Altria were held back by a sharp drop sales of non-tobacco products after a product recall in January.
Altria's net revenues broadly unchanged at $6.1bn in the first three months of the year as higher sales in its smokeable products segment were offset by lower net revenues in the smokeless products and wine segments.
Altria's revenues net of excise taxes increased 1.3% to $4.6bn, which was around 1% below consensus analyst expectations.
Smokeable product revenues increased by 0.7% in the quarter, primarily driven by higher pricing, partially offset by lower volume and higher promotional investments
Smokeless products were "significantly impacted" by the January product recall due to a product tampering incident at its Illinois manufacturing plant.
Smokeless net revenues decreased 2.7% with revenues net of excise taxes down 2.5%.
The group reported adjusted earnings per share of $0.73, which was a cent below consensus forecasts.
Marty Barrington, Altria's chairman and CEO said: "Altria is off to a solid start in 2017 despite some short-term headwinds.
"We grew first-quarter adjusted diluted earnings per share by 1.4% against a difficult comparison in the year-ago quarter when we grew adjusted diluted EPS more than 14%. The smokeable products segment continued to generate strong results, which offset lower equity earnings from our beer investment and the effect of the voluntary product recall in the smokeless products segment.
"Our business fundamentals remain strong and we believe we are well-positioned for the rest of the year."
Altria reaffirmed its 2017 full-year adjusted diluted EPS growth guidance of 7.5% to 9.5%, with adjusted diluted earnings per share growth weighted to the second half.
The shares edged up 0.5% to US$71.16 in early trading.