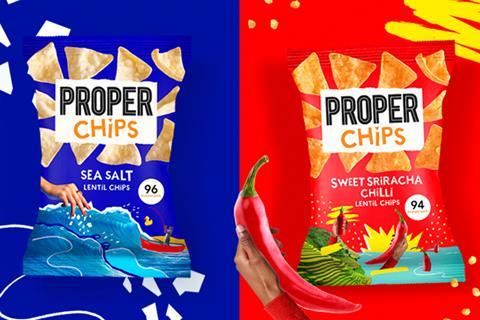 Propercorn maker Proper Snacks has reported a 25% sales increase in the past year, boosted by new product launches and growth across all categories.
For the year ended 29 December 2019, the company's turnover amounted to £15.9m from £12.7m the prior year, marking its "strongest" year since launching in 2011.
Operating losses, meanwhile, reduced to £2.3m from 2.5m.
The strong growth followed Proper Snacks' venture from popcorn into the broader snacks business, including the launch of lentil chips, Properchips, during the year.
To highlight its ambition to expand into different "better-for-you" snacks categories, Proper renamed from Propercorn last year.
The company also attributed the performance to growth in "new customers and markets".
In popcorn, the Propercorn range grew by 13% during the year, while revenue for Properchips accounted for over 10% of sales.
"These results reflect the Proper team's outstanding focus on creating the world's favourite snack brand," said founder Cassandra Stavrou.
"The move to Proper showed our ambition, while Properchips became the biggest better-for-you launch of 2019.
"The reception has exceeded expectations. Our ambition for the range accelerates every month with NPD that will extend our snacking portfolio even further."
With regards to the coronavirus crisis – which began after the financial year end – Proper Snacks said it had "developed plans to ensure that we can positively navigate the business into the post-coronavirus era".
Stavrou said the brand had shown "both its relevance and resilience" during the crisis.
She continued: "Now, the brand feels stronger than ever, and record sales in 2020 for both microwave and Properchips demonstrate our continued ambition."
In 2020 and 2021, Proper Snacks will be launching further NPD to expand beyond chips, while also pursuing international growth after achieving "particular success" in the Netherlands. It is already in 10 international markets.