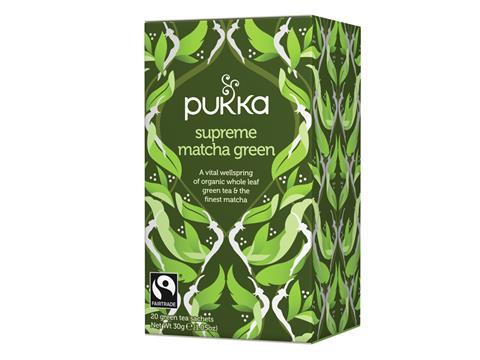 Rapidly growing herbal tea brand Pukka Herbs has slipped into the red as it invested in accelerating growth at home and overseas.

Revenues soared 25% to £28m in the year to 31 August 2016 - on top of 32% growth in 2014/15 - as the business, which came sixth in the 2016 Grocer Fast 50, secured new listings and attracted new health-conscious consumers.

Pukka recorded 11% growth in the UK as sales passed £13m, with a 36% jump in European revenues to £10.2m and a 47% rise in the rest of the world to £4.5m.

Pukka achieved "significant" growth in the more than 40 countries where its fruit and herbal teas are sold, said COO Will Ghali. But the rise in the top line came at a cost as Pukka embarked on a five-year strategic plan to maintain the high double-digit increases.

EBITDA fell 88% to £146,000 and the group slumped to pre-tax losses of £149,000, compared with profits of £1.1m the previous year. "2015/16 marked the first year of this ambitious plan to rapidly grow the business and required additional sales and marketing investment," Ghali said. "The amazing sales growth has continued in 2016/17, which we expect to be +30% up on 2015/16 sales. This has required continued investment into sales and marketing investment, however, which means profitability levels will be at a similar level to those experienced in 2015/16."

The organic brand joined 1% for the Planet during the year, a global movement of companies donating at least 1% of turnover to environmental causes. Pukka also became a certified B Corporation in 2016 to signal its commitment to sustainable business practices.

Pukka is the fastest growing tea brand in the UK, with its teas driving 52% of growth in fruit & herbal. Black tea has struggled in the past year as shoppers drink more herbal tea as part of the growing clean-living trend. Ghali said Pukka, which is the number two brand in fruit & herbal with a 20.2% share [IRI 52 w/e 20 May 2017], continued to take share every month as consumers traded up to its premium products from market leader Twinings.

He added the business' growth was incremental to the category, with a small amount driven by switching (15%) and the rest by Pukka attracting new shoppers into the category and shoppers increasing the frequency of purchases.

"As well as delivering on taste, Pukka's teas have become synonymous with wellbeing and that's why consumers are coming to us," Ghali said.