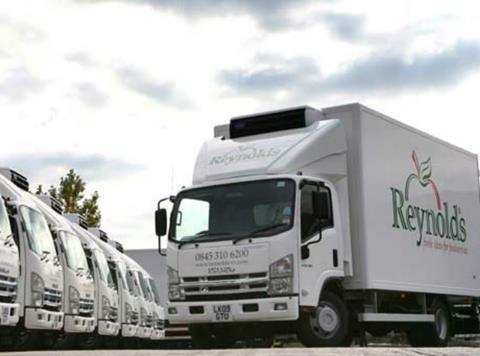 Reynolds' decision to exit its distribution contract with Pret A Manger has caused its turnover to drop by 10.7%.

The fresh and chilled wholesaler saw its sales fall to £190.5m for the year ending 31 December 2016.

Reynolds said the drop included a £39.8m reduction from its Pret A Manger contract in a "year of significant change" for the company.
Reynolds stopped delivering directly to the sandwich and coffee chain in January 2016 after 22 years in order to "focus on the distribution of Reynolds wholesale products".
"This marked the first major step towards this," Reynolds said.

"The first three months of 2016 were impacted by this restructuring of our operational structure following the significant change in the business mix."
Reynolds continues to supply Pret with fruit, vegetables, and salads through Bidvest Logistics.
Underlying sales of Reynolds products had "increased significantly to offset" the fall, it said.

Profits before tax rose from a loss of £1.7m to £507,000. EBITDA "stayed steady" at £4.5m, compared with £4.6m in 2015.

Reynolds said restructuring the business had lasted "longer than initially planned", which had affected its results.

"However, we believe that the platform that this built, including a reduction in the reliance on agency drivers and improved capacity, has put us in a very strong position for future growth in line with our strategy," Reynolds said.

"Something which is supported by the improvement in profitability seen during the rest of 2016 and the first half of 2017. Performance in 2017 has been strong and our forecasted end of year position is well in excess of prior year."

Over the period, the wholesaler signed new supply agreements with pub chain Whitbread and hotel chain Marriott.

"These contracts, together with other new business wins, have enabled us to add greater diversification to our customer base, reduce the risk of other sectors within our business and improve the proportions of Reynolds wholesale products within the business," the company said.

It said its driver development scheme, launched in February 2016, had minimised the driver shortage that hit the industry last year.

Earlier this year, Reynolds added new subsidiary company Wicker Seafood as it expanded its supply offering to include fresh fish.

It also agreed a long-term supply deal with fresh meat business Carnivore FMC in August after paying £76,500 for a 51% share in the company.

Reynolds warned "external factors are creating uncertainty within our marketplace".

"In particular, Brexit, the resultant deterioration in exchange rates and the associated impact upon our customer base, will bring some level of risk and uncertainty to the business," it said.

Reynolds supplies fruit, salad, vegetables, cheese, dairy and other fresh products to restaurants including Carluccio's and Pizza Express, as well as hotels, schools, universities, care homes and caterers across the industry.