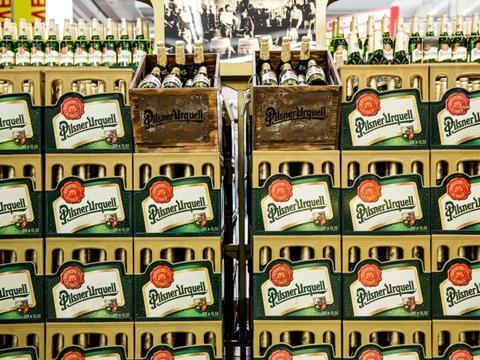 Sales at global drinks group SABMiller (SAB) have risen 3% in its first quarter despite challenging markets in Europe, China and Australia.
The brewer behind Peroni and Coors Light said lager volumes declined 1% in the three months ended 30 June thanks to sluggish sales in Europe. Net producer revenue (NPR) – which takes excise duties and similar taxes into account – fell by 4% across Europe, with beverage volumes down 6%, driven by a lager volume decline of 8% as the group struggled in the Czech Republic, Poland and Slovakia, offsetting a fizzier performance for Peroni Nastro Azzurro in the UK.
There was better news from Latin America, where NPR was up 6% and beverage volume by 5% thanks to star performer Colombia, and Africa, with numbers up 7% and 4% respectively as growth momentum continued.
CEO Alan Clark said: "Both revenue and volumes grew strongly in Latin America and Africa in the quarter, tempered in particular by a challenging quarter in our key European markets where the trading environment remains difficult and softer volumes in China.
"We continue to make good progress in our strategy of driving top-line growth which is reflected in the growth of revenue per hectolitre across our regions."
Analysts at investment bank Morgan Stanley added they remained positive on SABMiller's underlying growth potential in emerging markets despite currency headwinds, which pushed NPR down -10%. The firm said despite the performance in Europe, which was mostly the result of Easter timings, weather and tough comparatives, SAB was showing growth "where it mattered" in Africa and Latin America.
Shares in the group closed 08% down for the day at 3,412.5p.