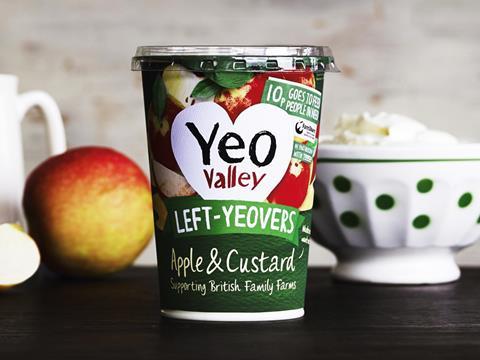 Yeo Valley returned to top-line growth last year, but profits were hit by soaring milk prices and the devaluation of the pound as the business prepares to sell its dairy arm to Arla Foods.
Newly filed accounts at Companies House show Yeo Valley's sales rose 4.3% in the year to 28 May 2017 to £284.9m, having fallen 3.9% in its previous financial year.
However, escalating input costs meant there was an 8.6% jump in the cost of sales to £173.1m results in a 13.7% drop in operating profits to £10.8m and a 13.4% decline in pre-tax profits to £10.3m.
Profit before tax margin slipped from 4.3% to 3.6% – short of the 5% target set by the board.
Joint MD Adrian Carne pointed to the "rapid increases" of UK milk prices, which gave "some respite to UK dairy farmers". This was "welcome in the medium and long-term" but hit profitability.
During its accounting period, UK farmgate milk price rose from 19.95p per litre in June 2016 to 26.75ppl in June 2017, a 34.1% rise, based on data from AHDB/Defra.
The post-Brexit fall of the pound also escalated the cost of fruit and packaging during the year.
These two pressures "will continue to have a significant impact" in the current financial year, Carne warned.
However, he also noted the growth of the Yeo Valley retail brand, which rose from 53 to 51 in The Grocer's 2017 Britain's Biggest Brands with growth of 3.5%.
A Yeo Valley spokesman said: "Trading in the last nine months has continued to be challenging but we remain focused on mitigating the impact of input cost rises, the uncertainty of Brexit and the structural changes within the grocery retail sector.The improvements in Yeo Valley's financial performance over the past two years means that we are well placed to manage this volatility whilst continuing to strengthen our business."
The results come just weeks after the news Arla Foods agreed to acquire the licence for Yeo Valley's milk, cheese and spreads division in a "multimillion-pound" deal.
Under the Yeo Valley deal, announced on 8 February, Arla will pay royalties to Yeo Valley annually, though the acquisition is still subject to approval by the Competition & Markets Authority.
The Yeo Valley yoghurt, ice cream, cream and desserts business will continue to be run independently through Yeo Valley Group, which remains under the ownership of the Mead family.
Arla UK MD Tomas Pietrangeli told The Grocer it is planning a major NPD push for the Yeo Valley brand, but there were no plans to change supply arrangements for Yeo Valley products.