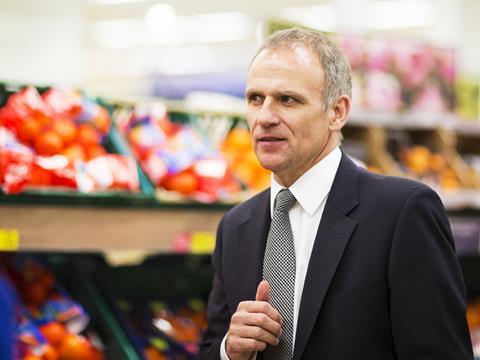 Tesco today announced a sharp drop in first-half profits but also revealed a recovery in volumes. Here is what leading City and retail analysts had to say about the results.
Bryan Roberts, director for retail insights at Kantar Retail, said the results showed Tesco was finally heading in the right direction. "Range resets are leading to improved availability and a degree of sharper pricing, with the maintenance of adequate staffing levels creating improved service levels, if not improved store economics. We expect a more concerted effort from Tesco on pricing, with perhaps an adaptation of the Price Promise mechanic to offer shoppers more immediate price parity with immediate competitors. The discounters remain an irritant, albeit a relatively minor one compared with self-cannibalisation through online and convenience, and although price will play its part in regaining lapsed shoppers, an overhaul of the large store proposition remains an elusive component of a sustained recovery. That said, Dave Lewis has successfully corrected the direction of travel and the stage is set for some meaningful action on value."
Bruno Monteyne, analyst at Bernstein, said: "These results confirm that Tesco's recovery is solidly on track. 1. They are holding on to customer traffic and transactions, while investing in price and service. 2. Margins in UK/ROI £200 million better this half year than previous half year and reconfirmed guidance for further margin recovery in the next half. 3. Cost savings programs on track. 4. Balance sheet protected in 3 different ways: disposal of Korea business, positive free cash flow (amazing achievement) and undrawn liquidity lines. Shares below £2.00 reflects a bearish view that the recovery isn't working. These results show solid progress on the 3 year journey."
Phil Dorrell, partner at Retail Remedy, said Tesco was ready to move "from intensive care into the recovery ward". He added: "Let's be clear, Tesco isn't cured, but it is definitely over the worst. With better volumes and more transactions, [Dave Lewis] is in a much stronger position to tackle the problem areas of cost and margin in order to maintain bottom line profit. A clever move for Tesco is unifying the brand more closely across the many facets of its operation, building trust as well as being cost efficient.
"We will have to wait to see how this translates across all businesses and channels but hopefully not for too long. Marketing is one of Lewis's fortes and we would like to see evidence of this in a fresh new Christmas marketing campaign. The store experience is better than it was, cleaner prices and less confusing promotional elements, improved service which we have witnessed and welcomed and range rationalisation being delivered without undue distraction. This is the Tesco we believe the customer wants and with a little more time will be delivered."
"Disposals, store closures and cost cutting will only do so much for the beleaguered supermarket giant"

Julie Palmer. partner at Begbies Traynor
Julie Palmer, Partner at Begbies Traynor: "Over a year has passed since Tesco's £250m overstatement scandal hit the headlines and the group is still struggling to see light at the end of the tunnel, having announced a 55% slump in profits to £354m from £779m last year. With a Serious Fraud Office investigation still casting its shadow, the unrelenting pressure on margins that discounters Aldi and Lidl continue to exert combined with the additional costs it faces from the National Living Wage, the group's turnaround project still has a long journey ahead.
"Adjusting to the new normal of the supermarket industry, Tesco has been redoubling efforts to simplify its ranges and promotional offers, continuing to reinvest in its customer service and shifting commercial terms with suppliers from back to front margin. Tesco is now faced with the uncertain task of not only having to ameliorate its flat sales growth, but also win back investor's trust. Disposals, store closures and cost cutting will only do so much for the beleaguered supermarket giant, and market insiders will now be questioning whether 'Drastic Dave' has been truly drastic enough."
David Gray, retail analyst at Planet Retail: "As expected, the numbers this morning indicate further signs of stabilisation at Tesco's domestic unit, with like-for-like declines narrowing on those reported at Q1. There were also encouraging signs on volumes at Tesco, indicating this is a volume-led recovery. These figures have firmly cemented the split in the UK mid-market into two camps – Tesco/Sainsbury's showing signs of recovery and Asda/Morrisons being the laggards. Considering Tesco was in the throes of the accounting scandal just 12 months ago, being in the former camp is an achievement in itself."
Retail analyst and consultant Nick Bubb said: "Today's Tesco interims are predictably awful, with operating profits 55% down at £354m, and there is no interim dividend, but the big interest was in what Tesco said about the balance sheet and its asset disposal programme. And, somewhat surprisingly, Tesco have said that the portfolio review is now concluded (with the wretched Dunnhumby retained after all) and that further reduction in the £8.6bn debt mountain (excluding the Tesco Bank) can be achieved by driving cash out of the business. That seems to firmly knock a potential rights issue on its head, which would have been embarrassing at this stage of the proceedings, although Tesco had always played down the chances of that, to be fair.
"As for what Tesco call a "broad-based improvement across the group", we are asked to believe that -1.0% LFL in Q2 in the UK is an improvement on the -1.5% in Q1, but the outlook statement goes on to conclude that "The market remains challenging. In the second half we will continue to benefit from initiatives already undertaken to improve our competitive position and reduce our cost base, leaving our full year expectations unchanged. Our focus remains on doing the right thing for customers and we are prepared to invest further if we see additional opportunity or need to enhance the long-term competitive position of the business". It will be interesting to see what the stockmarket makes of all that ahead of the 9am analysts meeting in the City, but we would guess that the recent rally in the share price (to 192p) will be sustained."
Mike Dennis, MD for food and general retail at Cantor Fitzgerald Europe, said the results were "disappointing on many levels". "Management stated that the recovery could take longer. If, on our estimates, UK stores are loss making at the operating level in H1 and there are significantly less buyers of grocery retail outlets then we should expect more store closures across the 3,500 UK Tesco stores, and more importantly higher impairments and more profit downgrades. In addition, any UK margin recovery is now, in our view, reset at a lower starting point indicating any recovery could take a lot longer and cost a lot more to execute in store changes and new IT systems."
"Dave Lewis deserves enormous credit for stabilising a ship that was in danger of sinking"

Clive Black and Darren Shirley, Shore Capital
Clive Black and Darren Shirley, analysts at Shore Capital, said: "We have, in the past, been Tescophiles. Indeed, we remained too positive for too long on stock when the wheels were falling off its bus. The time it took for Tesco to effectively fall apart conditions our thinking about the time it will take to rebuild, noting that the group does not work within a vacuum. It is fair to say, to our minds at least, that Dave Lewis deserves enormous credit for stabilising a ship that was in danger of sinking. However, taking the good ship Tesco to a place where it has a) strong solvency ratios, b) sustainable sales growth and positive operational gearing, c) equity valuation multiples that make the stock look attractive on market comparable ratios and d) recommences a dividend stream that is well covered, attractive and sustainable, seems a very long way off.
"So, we see a business here that is stabilising. However, whilst this is the case there is a low level of visibility to the profile and quantum of medium-term earnings. Scale will be important to Tesco but not as important as capability and the emotional re-engagement with customers that the business needs to make through functional excellence in all of its markets; as such we believe that the bull scale piece is over-stated and that scale potential cannot be realised until front-end delivery is much more compelling.
In this respect, we have perhaps under-estimated the time that will take to for the stores in the British Isles to more clearly reflect the merchandising plans of Messrs. Lewis and Davies. We make this point because SKU rationalisation is dull and needs something alongside to be exciting for customers to balance the greater efficiency range control delivers. We await this delivery with considerable interest."
John Ibbotson, director of the retail consultancy Retail Vision, comments: "A year into his tenure, Tesco's embattled chief executive has lived up to his 'Drastic Dave' nickname. Yet on this evidence he will have to be more drastic yet. Dave Lewis has not shied away from a ruthless pruning of Tesco's bloated balance sheet, but this has failed to stop the group's operating profit slumping by more than half. But the frantic selling off of Tesco's family silver – including a £4bn deal for its biggest overseas asset, the South Korean unit Homeplus – has done little more than buy time.
"The greater problem remains flagging sales momentum. Like-for-like sales in the UK and Ireland are down 1.3% on the same time last year. Though there are some signs of progress. This slide is an improvement on the 4.6% nosedive recorded in the first half of last year, and by the second quarter of 2015 the rate of decline had eased to a mere 1%.
"Tesco is not alone in its pain. Two of the other big four supermarkets are seeing sales slide at a faster rate. But with all the big players reducing prices and consistently low food inflation, noone should expect a quick return to sales growth. But Tesco's size remains its trump card. At nearly twice the size of its nearest rival, and with the highest margins of any of the big four, it can use its scale to hold down prices longer than anyone else. Dave Lewis' reduction in range and prices will eventually get shoppers back into Tesco stores, but the question is how much time will he be given to do so?
"Tesco's turnaround has begun, but it is achingly slow and there is nothing inevitable about it yet. But after a brutal first year, Dave Lewis' job still looks considerably safer than Stuart Lancaster's."
Jon Copestake, retail analyst at the Economist Intelligence Unit, on Tesco seeing a new fall in its profits:
"With profit margins continuing to suffer the impact of the ongoing UK price war against discounters, it's of little surprise to see Tesco's profits continue to slide - especially since Dave Lewis is implementing a turnaround plan which is likely to bring short-term pain in terms of store closures and write-offs. Of more concern is the continuing decline in like-for-like sales, although Tesco's peers face a similar challenge with Sainsbury's reporting an identical 1.1% like-for-like fall last week.
"The sale of Tesco's Korean Unit has brought some short-term cheer in terms of bringing down overall debt, although the retention of the Dunnhumby business represents a further burden for Tesco considering the reported lack of interest among potential buyers. One significant sign of progress under Dave Lewis is yesterday's announcement of simplification of commercial relationships to establish fixed and faster payments to suppliers. Given the reputational damage caused by Tesco's previous commercial policy this could go some way to restoring goodwill in Tesco's supply chain which could yield longer term benefits".