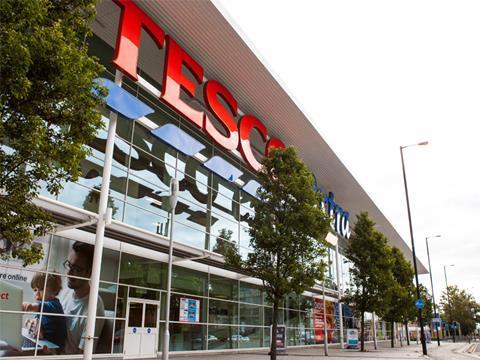 Tesco's (TSCO) first half reported profits fell by more than half from £779m to £354m, but CEO Dave Lewis has hailed the "sustained improvement" in its trading performance.
Like for like sales for the six months to 29 August were 1.1% down, but Tesco's sales trend improved again in the second quarter to a like for like fall of 1% from 1.5% down in the first quarter.
Tesco said this UK sales performance was driven by "both our price investment and lower commodity prices" and came despite "continued high levels of deflation".
Group operating profit before exceptional items fell 54.6% to £354m, but including exceptional items – most notably £187m of commercial income adjustments in 2014 – first half operating profit rose 63.9% from £216m in the first half of last year.
Pre-tax profit was £74m, compared to a loss of £19m last year – though pre-tax profits before exceptional items and net pension finance costs dropped 74.3% from £614m to £158m.
Chief executive Dave Lewis said: "We have delivered an unprecedented level of change in our business over the last twelve months and it is working. The first half results show sustained improvement across a broad range of key indicators.
In the UK, we continue to improve all aspects of our offer for customers, resulting in volume growth which is allowing us to create a virtuous circle of investment."
He also added that Tesco was no longer looking to divest any more assets to strengthen its balance sheet, having sold its Korean operations and scrapped plans to sell off its Dunnhumby data arm.
He said: "We have concluded our portfolio review with the sale of Homeplus, our business in Korea, enabling us to take a significant step forward on our priority of strengthening the balance sheet. Further progress will be driven by continuing to increase the level of cash generated from our retained assets."
Tesco warned that market conditions remained "challenging" in the second half and left its full-year earnings expectations unchanged as it continues to reduce costs and improve its competitive position.
In terms of outlook, Tesco said: "Our focus remains on doing the right thing for customers and we are prepared to invest further if we see additional opportunity or need to enhance the long-term competitive position of the business."
Total international like-for-like sales increased in the half for the first time in nearly three years, rising 1% in the first half with both Europe and Asia positive in the second quarter.
Group sales declined by 0.3% at constant currency rates and by 1.9% at actual rates, reflecting the impact on translation to sterling of weakness across European currencies.
In the UK, the closure of a total of 53 unprofitable stores since the start of the year and the reduced level of new store openings led to a contribution from net new space of just 0.5%.
Bryan Roberts, director retail insights at Kantar Retail said: "As expected, Tesco has recorded a chunky decline in profitability, but has seen first half sales in the UK start heading in the right direction.
"Range resets are leading to improved availability and a degree of sharper pricing, with the maintenance of adequate staffing levels creating improved service levels, if not improved store economics. We expect a more concerted effort from Tesco on pricing, with perhaps an adaptation of the Price Promise mechanic to offer shoppers more immediate price parity with immediate competitors."
Tesco's shares fell 2% to 188p in early trading this morning, though they are still 11.3% up since the beginning of last week.