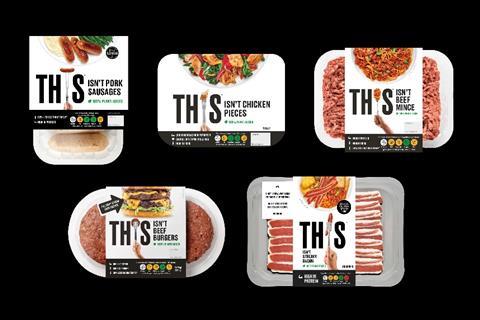 Meat alternative producer This is targeting profitability by 2025 as it shifts focus from hyper-growth to improving margins following heavy losses.
Revenues jumped 11% to £13m last year at the brand, according to its first full set of accounts for the 12 months to 31 December 2022 .
However, operating losses also widened from £5.9m to £9.8m year on year as the business continued to prioritise growth over profits.
However, margins have improved significantly this year thanks to an "herculean effort" in all areas of the business from innovation through to product on shelf, said CEO and co-founder Andy Shovel.
"We have worked tirelessly to transform our gross margins from below 0% at the start of this year to around 20% in August," he added.
"I have never heard of a business achieving that level of profitability movement in two quarters, especially given that our annualised revenue sits at about £20m."
Sales have soared another 50% year on year in the first half of 2023, he said. Although this year is still expected to be loss-making, Shovel predicted This would be EBITDA positive by Q4 of 2024.
This – which last week announced a deal with ITV to swap equity for advertising worth £4m – was named as the fastest-growing food and drink company in the UK this year by Alantra's Fast 50 ranking.
Shovel and co-founder Pete Sharman have raised significant external backing to fund that growth, securing around £35m from private and crowd investors over several rounds.
"Given we've been trading in such a fast-moving category, we've invested heavily in growing our market share and R&D, so that we can present consumers with the highest-quality products on the market," Shovel said.
The latest plant-based category report in The Grocer showed This had avoided the downturn affecting other brands in the sector, with sales value up 38.9% as it sold an additional 1.5 million units [NIQ 52 w/e 15 July 2023].