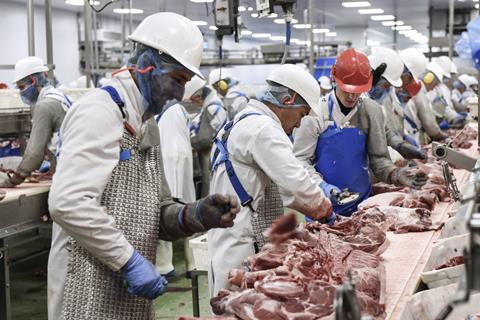 Tulip recorded a near £81m pre-tax loss during the last year of its ownership by Danish Crown. However, the pork giant stressed it had now moved into "a period of growth" following its sale to US meat giant Pilgrim's Pride.
While £4.7m down on 2018 levels, the processor posted a pre-tax loss of £80.1m for the year ending 30 September, according to accounts filed at Companies House. Sales rose slightly, from £1.06bn in 2018 to £1.07bn.
The loss of a key M&S cooked and sliced meat contract to Cranswick in February 2019 contributed a significant chunk to operating losses before exceptional items of £17.3m last year.
This followed a series of losses dating back several years at the supplier. However, this figure was almost £20m down on losses of £37.6m the previous year following a series of "rigorous" cost-cutting initiatives, said a spokesman for the business. Operating margin before exceptional items improved from a loss of 3.5% to a loss of 1.6%.
Tulip's turnaround plan also led to the loss of about 1,000 jobs over the course of the year, and two site closures. It shut the doors at its Boston site in Lincolnshire after the M&S contract loss, while a consolidation of fresh sausage manufacturing led to the closure of its Bromborough site on the Wirral.
The costs associated with these closures, including redundancy payments and other impairments associated with Tulip's turnaround plan, contributed to exceptional administrative expenses of £54.1m, up from £34.2m.
However, the "huge amount of work" put into the supplier's cost-cutting drive, which also included a company-wide pay freeze and other operational efficiencies, was now starting to pay off, said a Tulip spokesman.
Tulip had been delivering "weekly profit" since October, giving the processor "a renewed sense of positivity as we enter into a period of growth" under new owner Pilgrim's Pride, he added.
The business was also "well placed" to deal with the African swine fever pandemic, Tulip's accounts suggested, with its own pig production making up more than 50% of UK pig numbers and a production structure designed to reduce the risk of disease transfer. Pilgrim's Pride also provided Tulip with "new links to potential supply from the US", it hinted.
Tulip's results follow the publication of Danish Crown's accounts last November, which suggested Tulip lost DKK 210m (£24m) in its final year under the ownership of the Scandinavian farming co-op, with DKK 575m (£65.7m) of goodwill written down ahead of its sale.
It comes as Tulip this week confirmed a recovery plan for its manufacturing site in Bodmin had now been agreed, securing the future of the site.
The agreement followed extensive discussions with site management, employee representatives and customers, and would involve "several operational adjustments", Tulip said. And additional 49 redundancies have been announced, following the more than 200 jobs cut last year at Bodmin.