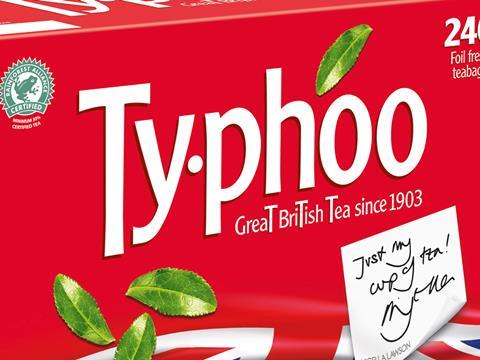 Sales have declined for a second year at Typhoo as the boom in fruit & herbal teas saw the brand lose shelf space in Tesco to the likes of Pukka.

Typhoo and PG Tips both suffered delistings in the past year at Tesco, losing almost £10m between them in retail sales [IRI 52 w/e 15 July 2017], with Pukka the biggest winner.

New accounts at Companies House showed that revenues at Typhoo fell 4% to £71.1m in the 12 months to 31 March 2017, which was on top of a 9% fall the previous year when it struggled with falling retail prices, heavy promotions and flagging overall demand in the black tea market.

However, tight control on overheads protected margins at the supplier as EBITDA remained flat at £5.1m, with operating profits up £50,000 to £3.7m and pre-tax profits up from £56,000 to £220,000.

Typhoo has also been stung by post-Brexit commodity price rises as tea leaves - traded in dollars - have become more expensive in the wake of sterling's decline. But brands have managed to push through price increases in stores, helping black tea value grow 2.2% to £445m on falling volumes as demand continues to flag in favour of pricier herbal and fruit brews (up 6.8% to £196.7m), as reported by The Grocer last week in it Hot beverages category report 2017.

Typhoo highlighted, in its accounts, a number of successes in a challenging year for the company, including the launch of the new Nigella Lawson TV campaign, winning Co-op own-label business for black tea and fruit and herb, the Heath & Heather brand relaunch with an extended organic range, and NPD in private label.

"It has been a strong year for Typhoo, with the company performing well against the backdrop of an increasingly challenging retail market," said CEO Somnath Saha.

"The past financial year has also seen us continue to lead the way in product development, secure significant own-label business and launch a successful campaign with Nigella Lawson.

"Looking ahead, our focus remains on delivering against our strong marketing plan, which we have every confidence will further add to the growth on our balance sheet and in our operations.

"In addition to maximising opportunities from growth in markets like that seen in the fruit and herbal sector with the relaunch of our Health & Heather brand, we are also committed to ensuring our vision is cast beyond our products - this includes a focus on driving improvements in our customer services and strengthening relationships with key retailers."

Typhoo, owned by Indian conglomerate Apeejay Surrendra Group, also more than doubled its net worth in the year from £18.1m to £40.3m as it reduced bank debt and secured new funding by selling a minority stake to Abercross, a new investment fund set up this year by former England cricketer Alex Loudon and Saudi wealth manager Issam Hamid.