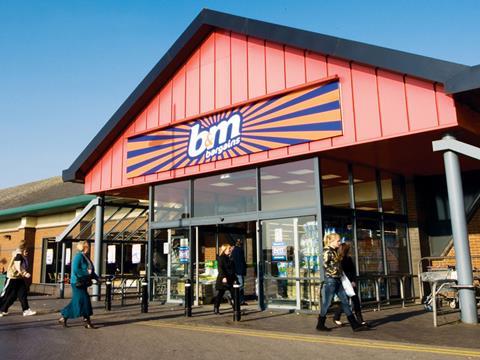 B&M Bargains owner B&M European Retail (BME) saw revenues top £2bn in the year to 26 March 2016, driven by new store openings.
Reported revenues for the year were up to £2.04bn from £1,65bn last year, representing an increase of 23.6% and 24.3% on a constant currency basis.
In the UK, revenues increased by 24.7% to £1.9bn, principally driven by the new store openings.
There were 74 net new store openings in the year, with 79 new stores and 5 store closures.
Sales in the like-for-like store estate grew by 0.3% against a "strong" like-for-like comparable of 4.4% growth in 2015.
Statutory profit before tax was £154.5m, which compares to £61.7m in 2015, although last year was distorted by the exceptional costs, largely relating to costs associated with the IPO and the previous financing structure.
Adjusted profit before tax was up 19.5% to £161.4m.
Simon Arora, chief executive, said: "B&M's disruptive pricing, unique sourcing model and range discipline has continued to drive our business forward to win market share. More people are able to access our stores as a result of our continuing and successful new store programme. We now regularly serve 3.3 million customers on average each week.
"As a result of a record 79 new stores opened in the financial year, we have now passed the milestone of 500 UK stores. In the UK there are many locations where we don't currently trade but would like to and in Germany we are beginning to accelerate our pace of expansion, and we continue to see attractive returns from our new store programme."
B&M said it has a pipeline of 19 new store openings in Germany for 2017 through organic growth of 10 stores and the exchange of a conditional agreement for the acquisition of a 9 store chain in the second half of the year.
It plans to open 50 new stores in the UK in 2017.
"In the UK, we are seeing an increasing level of confidence from retail property developers to design and build new stores specifically for us, often on retail park locations alongside one or more other retailers," B&M stated.
B&M shares closed 3% up to 290.7p today.