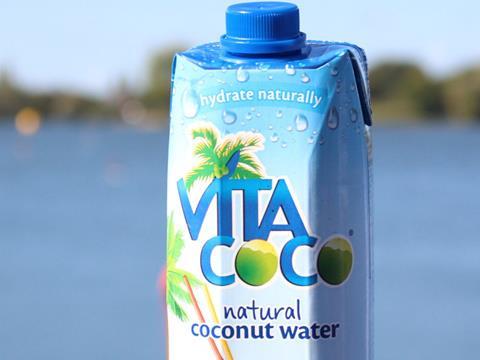 Growth at coconut water brand Vita Coco has continued to rocket despite Innocent muscling into the category.

Revenues soared 79% to £24.5m and pre-tax profits climbed 64% to £2.3m as consumers increasingly looked to healthier alternatives to sugary drinks, newly filed UK accounts for 2014 show.

Rapid expansion had continued into 2015 with growth expected to come in at over 50% this year, said UK CEO Giles Brook.

The value of the coconut water category reached £47.9m in the 52 weeks to 12 September 2015 [IRI], with Vita Coco claiming a 64% share at £30.8m, up from £22.2m the previous year, and Innocent racking up £5.9m since launching at the end of March.

The Coca-Cola owned brand took an aggressive approach to the launch, with up to 80% of its volumes sold on promotion, though promotional levels in the category are generally high.

"If a strong brand comes in and is willing to invest in the marketing then it is good news for the category," Brook said. "Innocent have brought a load of new consumers into coconut water, which is great news for us as we have opportunity to make Vita Coco the brand of choice."

Brook, who added kids products and a lemonade variant to the range in 2014, believes there is scope for the coconut water market to grow into a £250m category in the next three years.

"The big opportunity for us is household penetration, which is currently still below 5%, so if we can take that to 10%, 15% or 20% it is quite scary if you think about the numbers the category can collectively achieve."
Brook also expects to see several retailers launch an own-brand coconut water in the coming months, reflecting the growing strength of the category.
Vita Coco expanded further in Europe, including in Norway, in 2014, with sales to the continent almost doubling to £3.4m. The brand is now looking to the Middle East, Asia and Africa, as well as elsewhere in Europe, for new growth, and has also expanded its range with the introduction of a coconut oil product, which Brook expects to form a "big part of the business" in the future.