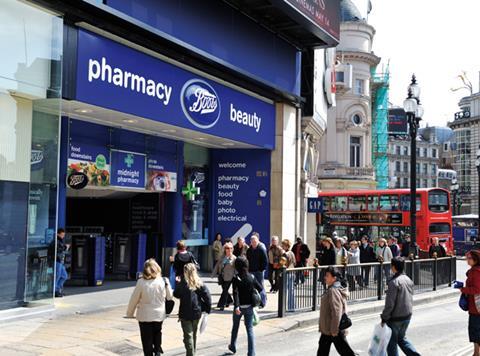 A Christmas sales boost at Boots in the UK was not enough to stop a decline in group revenues at parent Walgreens Boots Alliance (WBA) during the second quarter.
Turnover in the three months to 28 February slumped 2.4% to $29.4bn (£23.6bn) as the impact of the weak pound versus the dollar dragged down the top line. On a constant currency basis, revenues rose 0.9%, and by 2.2% when gains from a leap year in 2016 were stripped out.
Profits plunged more than 20% in the period to $1.5bn (£1.2bn) as a result of costs related to a group-wide restructuring programme, which has seen hundreds of jobs cut in the UK. Walgreens Boots said it cost savings were "well ahead" of schedule, totalling $1.5bn.
Like-for-like retail sales in UK Boots stores increased 0.7% in the period, thanks to a "solid" December.
However, pharmacy sales in the UK slumped 5.2% because of a reduction in government pharmacy funding.
The group offset the decline with growth in other international markets, with international pharmacy like-for-like sales down by just 3.7%.
The retail pharmacy international division was hurt by currency devaluations, which pushed revenues down 14.5% year on year to $3.1bn.
"Our results this quarter were in line with our expectations despite some challenging conditions we faced in a number of markets," said executive vice chairman and CEO Stefano Pessina.
"I am particularly pleased with the growth in pharmacy volume and market share in the retail pharmacy USA division, which saw the highest comparable prescription growth in more than seven years. At the same time, we continue to work toward gaining regulatory approval of the pending acquisition of Rite Aid Corporation by the end of July, consistent with the amended merger agreement announced in January."
Revenues at the group in the first half fell 2.1% to $57.9bn in the first half, with operating income down 12.9% to $2.9bn.
Shares in Walgreen Boots opened down 1.1% to $81.60 as the NASDAQ opened today.