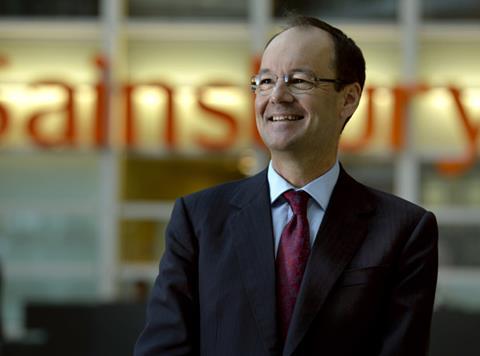 With the collapse of its Asda merger, a plunging share price and an investor revolt over pay, Sainsbury's (SBRY) boss Mike Coupe could have done without the weather depressing first-quarter general merchandise sales too.
Sainsbury's has been the industry laggard this year in terms of grocery sales. Its trading update for the 16 weeks to 29 June showed some signs of improvement in food sales, only to be hit by a slump in non-food revenues as the poor early summer weather took its toll.
Grocery like-for-likes were still down by 0.5% in the quarter, but that was towards the better end of expectations and represented some improvement from the 0.6% drop in the fourth quarter of the last financial year. Coupe pointed to improving trends in sales volume and its relative price competitiveness, having instigated a raft of own-label price cuts in recent weeks.
But overall like-for-likes excluding fuel were down 1.6% in the quarter as it suffered from a 3.1% slump in general merchandise sales and a 4.5% fall in sales of its clothing ranges. Sainsbury's stressed that the "poor weather conditions impacted demand in some seasonal categories", with Coupe pointing to a two-thirds drop in the sale of paddling pools given the soaring temperatures in the same period last year.
Sainsbury's said it continued to gain share in clothing and GM, but the sales falls are a notable drop from GM growth of 1.7% in the same quarter last year, and 0.8% growth in clothing.
Analysts noted that Sainsbury's now had large exposure to GM and clothing in a consumer environment that is rapidly weakening. "These are clearly two challenged markets in today's UK consumer environment," noted Bernstein, adding: "In the battle between the market and management, it's clear that the market is still winning."
HSBC summarised: "Sainsbury lacks the scale of Tesco and Asda/Walmart, the agility of Morrisons and Waitrose, and the cost efficiency of Aldi and Lidl. A capital markets day in September will outline future plans, but we doubt if it will go far enough. Sainsbury needs a major strategic overhaul, not just tweaks to its existing strategy."
Shares dropped back 0.5% on Wednesday to 198.5p after briefly bouncing up to 204.3p in early trading on the better than expected grocery sales.
The shares remain close to the multi-year low of 185.3p set in June following the collapse of its prospective merger with Asda having traded at 341.8p less than a year ago.