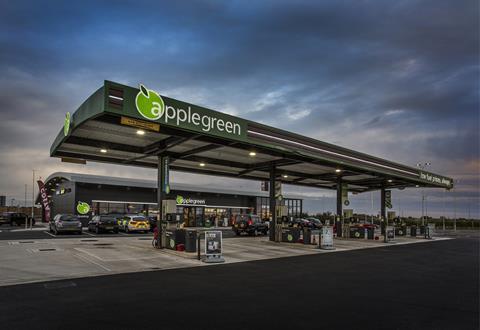 The addition of Welcome Break's network of motorway services has boosted Applegreen's (APGN) annual sales to over €3bn, with profits more than doubling.
Realeasing its annual results for the year to 31 December 2019, Applegreen said sales leapt 53% last year to €3.1bn.
Like for like growth in non-fuel (food and store) revenues were 4.9%, while LFL growth in fuel revenue was 10.8%.
Its store estate expanded rapidly during the period, adding up to 556 sites at the end of December 2019.
During the year 14 sites were added to the estate in the UK and Republic of Ireland, while 70 sites were added in the US, comprising of 46 sites in the US Mid-West in September 2019; the acquisition of a 40% minority stake in 23 Service Areas in Connecticut in October and a further three new openings in the North-East.
After some Brexit related softness in Q1 2019 in Welcome Break, we have seen good progress through the year driven by its catering power brands. This momentum continued into the first two months of 2020.
Group adjusted EBITDA jumped 141% year-on-year to €140.4m.
Adjusted EBITDA excluding the Welcome Break acquired assets was €57.7m, representing 21% growth.
However, Applegreen said that given the ongoing uncertainty in light of COVID-19, it expects a "material reduction" to Welcome Break's profitability for the current financial year.
Applegreen updated the market on the wider effects of the coronavirus outbreak this week, noting that it expects a "material reduction" in profitability for the current financial year.
"The scale of this will be dependent on how the situation develops and over what timeframe, together with the impact of any further measures taken by national governments to mitigate the disruption," it stated.
CEO Bob Etchingham commented: "Our absolute focus at present is navigating the various issues associated with COVID-19 and to ensure we are looking after our people whilst continuing to deliver the essential service we provide to our customers.
"We are very pleased with our trading performance and the strategic development of the Group in 2019 where we successfully integrated a number of important acquisitions, expanded our footprint in the US and significantly reduced our reliance on fuel by continuing a shift in focus to convenience retail and food on the go.
"We are highly conscious of the considerable uncertainty created by the current COVID-19 crisis but are confident in the defensiveness of our business model and the strength of our balance sheet and liquidity. Therefore, we are positive about navigating the company through this crisis and building our business for the long term."
House broker Shore Capital said the results represented an "excellent performance", adding: "Applegreen is a defensive, resilient, asset backed medium to long term growth story with experienced and talented management that are doing the right things to permit ongoing progression, as and when more normal trading conditions emerge."
The broker noted Applegreen's comment that is will "commence a detailed review of assets in our estate that are considered non-core".
"We view this as likely to include the UK petrol filling stations, for which we believe there would be considerable market interest as the economy stabilises, noting material corporate activity in this market in recent years," Shore Capital stated.
Applegreen shares soared 15.2% to 227p in morning trading, to recover somewhat from its all-time share price low of 187p recorded yesterday.