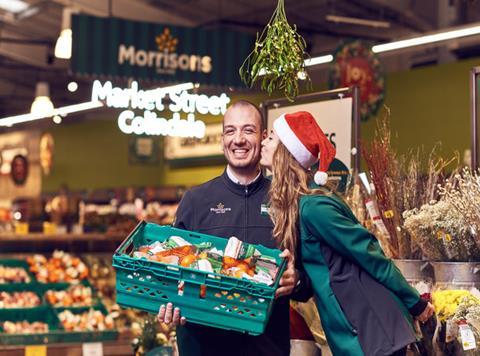 When clothing bellwether Next fell way short of Christmas sales expectations last week, the headlines were full of the carnage on the UK high street. However, ahead of a busy week of grocery trading updates there are good reasons to think the supermarkets had a far better time of things over the festive period.
All three listed supermarkets will report their festive numbers week, as will Marks & Spencer, Waitrose and Booker.
Going into the week the feeling around the sector seems to be one of cautious optimism. Like-for-like growth continued to be hard to come by, but Morrisons and Tesco both had far stronger 2016s after recent struggles and the sector looks in its best shape for a few years.
An illustration of this came with this morning's consumer spending figures from Visa, where growth in food, drink and tobacco of 2.9% in December outstripped the general growth of 2.6% and was well ahead clothing, which fell 1.1% in the month.
The reasons for these better prospects are multi-layered – from core operational improvements from recent underperformers, to the slowing growth of the discounters and the easing of damaging food inflation.
So what should we expect when the grocers release their Christmas figures this week?
Tesco (TSCO) and Morrisons (MRW) look to be vying for star performer billing. Consensus expectations for festive period growth at Tesco and Morrisons are similar, although there is a wider range for the latter.
Tesco has tougher comparatives as its performance had already picked up by Christmas 2015, meaning its Christmas trading is likely to be slightly weaker than its overall third quarter trading. Analysts are general estimating Christmas growth of between 1-2% for Tesco as Dave Lewis' transformation plan continues to bear fruit.
Tesco's improvement has been accompanied by a recovery for Morrisons this year and Christmas looks no different. Morrisons is also facing slightly tougher comparatives than it has through the year as its 2015 Christmas sales were up 0.2%, but analysts are predicting a second year of seasonal growth. Most are forecasting growth of around 1% of just under, but Bernstein has predicted 2.5% growth for the nine weeks to 1 January and picked it as "the winner for Christmas trading 2017".
Things look slightly tougher for Sainsbury's (SBRY), which until recently was the strongest performer of the big four during the supermarket price wars.
Consensus predictions have Sainsbury's Christmas sales down around and under 1%. "We continue to believe that it is one of the, if not the, prime 'victim' of any shopping shifts into a recovering Tesco," wrote Shore Capital.
Sainsbury's may be more exposed to some of the woes affecting the general high street retail sector given its ownership of Argos. "Argos may be at the lower end of Sainsbury's trading expectations as it faced a period of disruption and increased competition," warned HSBC, while Shore Capital has Argos like-for-like sales down 0.5-1.5% for the period.
However, Jefferies sees 2%+ like-for-like growth at Argos, noting: "We assume strong performance at Argos, with the growing popularity of Argos Fast Track an important enabler."
Marks & Spencer (MKS) could also whether the grim conditions for clothing retailers, with its general merchandise falls tipped to be lower than the market had feared. Shore Capital sees a 0.9% fall in like-for-like food sales (albeit from a strong comparative position), but improvement in the -2.9% general merchandise sales it saw in the second quarter back to around flat. Despite weak performance from its competitor Next last week, the broker cites: "favourable multi-year comparisons and a more supportive autumn trading season for UK apparel".
On a sector-wide basis, this week will provide some crucial guidance outside the company results on how the grocers are shaping up in 2017.
Firstly, the Kantar Worldpanel and Nielsen data for Christmas is out tomorrow and likely to show the most benign conditions for the sector in years.
Secondly, The Grocer Price Index is out this week which is set to show the lowest rate of deflation in well over a year as price inflation returns to some categories – notably fresh food.
But these inflationary pressures could provide short-term gains amid long-term pain as sooner or later the supermarkets will be faced with having to find a way of passing on increased costs to customers.
"In the near term we see renewed optimism give way to investor concerns around margin pressures," cautions Jefferies. "However, longer term investors may want to consider the more structural evidence of 2016, suggesting that discounters need to drastically revise store growth ambitions in a bid to protect sharply falling returns."