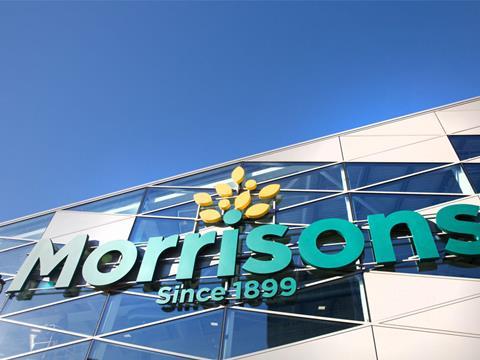 Top story
Morrisons (MRW) has reported a like for like festive sales jump of 3.6%, though its core retail business grew by a more modest 0.6%.
For the nine weeks to 6 January, total group like-for-like sales excluding fuel were up 3.6%, with retail accounting for growth of 0.6% and wholesale of 3%.
Group like for likes including fuel were up 3.4%, with total sales up 4% excluding fuel and 3.8% including fuel.
The 0.6% retail sales growth marks a slowdown from the 2.1% retail growth over the festive period in 2017 and lower growth than the 1.3% like for like retail growth the supermarket posted in its most recent third quarter.
Morrisons said there "was a change in consumer behaviour during the period" and it "performed well, sustaining a strong offer and trading the business hard for customers".
It said it was again more competitive, with the price of its basket of key Christmas items the same as last year.
It also noted that customer satisfaction increased significantly in the period, with the strongest areas of improvement being colleague friendliness and checkout experience.
CEO David Potts commented: "This is Morrisons fourth consecutive Christmas of like for like sales growth during the turnaround. Our performance shows colleagues are listening hard and responding to customers, providing consistently great value and good quality when it matters most. I would once again like to thank the whole Morrisons team for what they continue to do for our customers."
"Morrisons is well set to keep improving the shopping trip and become more and more relevant for more customers".
Morning update
Overall grocery sales growth fell back in the Christmas period according to the latest market share figures from Kantar Worldpanel and Nielsen as lower inflation and a high level of discounts took its toll.
Kantar notes the sector posted "record sales" of £29.3bn over the Christmas trading period as consumers spent an extra £450 million on groceries compared with this time last year.
The supermarket sector grew at 1.6% in the 12 weeks to 30 December, its slowest growth since March 2017 as inflation slowed to just 1.3% compared to the 3.6% in the same period in 2017.
Similarly, overall grocery sales growth fell back over the Christmas period from 3.7% last Christmas to 1.8% in the past four weeks amid high levels of discounting and vouchering, according to the latest market share figures from Nielsen.
While the number of trips increased, the average spend per visit fell by -3% in the four week period ending 29th December, compared with an increase of +3% in average spend in December 2017.
In contrast, sales in online grocery increased by 9%, to a 7.5% share of all grocery sales over the last 12 weeks. There was also a continued shift towards the discounters over Christmas, who hit 13.9% market share for the 12 weeks leading up to Christmas.
Nielsen found Aldi sales increased by 11.7% and Lidl by 13.6% during the period. Amongst the big four the best performer was Asda (+0.8%), though its momentum slowed along with its potential partner Sainsbury's (SBRY) (-0.6%). Tesco (TSCO) was up 0.4%, while Morrisons was down 0.1%.
Kantar said Asda grew by 0.7% and Tesco by 0.6%, with the latter boosted by an extra 125,000 customers shopping at the supermarket, particularly at its larger stores. Sainsbury's market share dropped by 0.3 percentage points as sales fell by 0.4%, while Morrisons market share declined by 0.2 percentage points to 10.6% despite sales growth of 0.1%.
Fraser McKevitt, Kantar Worldpanel's head of retail and consumer insight, commented: "The discounters have continued to make their mark over Christmas: two-thirds of all households shopped at either Aldi or Lidl over the 12-week period culminating in a highest-ever combined Christmas market share of 12.8%.
"Unlike its high street counterpart, the grocery market has been less affected by the move to online. Although e-commerce is growing – up 3.9% compared to this time last year – online grocery shopping is failing to attract new customers.
Mike Watkins, Nielsen's UK head of retailer insight, said: "Growth slowed this Christmas in comparison to last. We can attribute this to several factors: consumer grocery shopping habits are changing, with shoppers now opting to spend less on doing one 'big shop', instead preferring more frequent, smaller trips to the supermarket, spreading the cost across multiple retailers to increase choice.
"Moreover, with over half (57%) of consumers not confident about their finances, shoppers are more budget-conscious and the various promotions and price cuts are a response to help them manage their household budget. Finally, the incremental growth continues to come from the key categories of drinks, confectionery and snacks.
"It was a reasonable but not spectacular Christmas, indicative of how shoppers will now spread their Christmas spending across more retailers and different channels."
Also this morning, pub group and brewer Greene King (GNK) saw "record" sales over Christmas and the New Year.
Like for like sales in the last two weeks, covering Christmas and the New Year, were up 10.9% and it achieved Christmas day sales of £7.7m. All sales categories saw LFL sales growth over the last six weeks with Greene King branded local pubs driving strong drink sales growth.
After 36 weeks of its financial year, pub Company like-for-like sales were up 3.2% following strong trading over the Christmas period.
Its pub partners LFL net profit was down approximately 1% while total beer volumes in brewing & Brands were up 1.8% and own-brewed volumes were down 2.3%.
It said its cost mitigation programme is on track to limit net cost inflation to £10-20m in the year while it has also made further progress on its estate optimisation programme, remaining on course to dispose of 100-110 pubs and open around nine new pubs in the financial year.
Greene King stated: "While the ongoing uncertainty around Brexit may still have an impact on consumer confidence and spending during the year, we remain confident of our outlook for the financial year.
"We remain focused on our strategic priorities of driving profitable sales growth, developing a more streamlined and efficient organisation, and further strengthening and improving the flexibility of our capital structure to deliver long-term value for our shareholders."
Elsewhere, agriculture and engineering group Carr's (CARR) has issued a trading update for the 18 weeks to 5 January ahead of its AGM this morning.
It said the business is trading in line with expectations in both divisions.
UK Agriculture has begun the year positively despite the mild autumn which has subdued demand for oil and certain animal health products and supplements.
Sales volumes of feed blocks in the USA have started the year strongly following the recovery of cattle prices. In the UK and Europe, feed block volumes are in line with the board's expectations.
The integration of Animax Limited, the manufacturer of market-leading trace element supplements for livestock, continues to progress well. The business, acquired in September 2018, broadens the group's animal health and supplementation product ranges complementing its existing global feed block offering.
Subject to shareholder approval at the AGM, its proposed final dividend will be 2.35p per share for the year ended 1 September 2018.
CEO Tim Davies commented: "The new financial year has started well with trading in line with the Board's overall expectations. We remain confident that the investments made in acquisitions, research and product innovation leave the group well positioned for future growth.
"Whilst some clarity has been provided over the government's future policy on farming support, Brexit uncertainty remains for our customers and certain supply chains within which we operate. Further clarity over the UK's future trading relationship with the EU would bring greater confidence and stability back to our customers and marketplace although the group remains confident that it is well placed in the medium term."
On the markets this morning, the FTSE 100 is back up 0.6% to 6,848.7pts.
Morrisons has dropped 2.1% to 215p on this morning's sales update, but other retailers are having a better morning.
Ocado (OCDO) is up 2.9% to 861.6p, Marks & Spencer (MKS), is up 2.4% to 266.9p and Tesco (TSCO) is up 2.2% to 206.9p.
Other risers include Greene King, up 4.1% to 576p, Just Eat (JE), up 3% to 626.8p and Majestic Wine (WINE), up 2.8% to 256p.
Fallers include PureCircle (PURE), down 1.3% to 260p, Premier Foods (PFD), down 1.35 to 33.7p and Unilever (ULVR), down 0.7% to 4,075p.
Yesterday in the City
The FTSE 100 kicked off the week dropping 0.4% back to 6,810.9pts yesterday as concerns about the health of the global economy persist.
Retail bucked the downward trend however, as strong Christmas sales from Aldi and better than expected numbers from home furnishing retailer Dunelm (up 15.4% yesterday) boosted sentiment across the sector.
Strong risers yesterday included B&M European Value Retail (BME), climbing 3% to 306.5p, Hotel Chocolat (HOTC), up 6.3% to 287p and Marks & Spencer (MKS). Up 3% to 260.7p.
The grocers were also strong gainers, with Tesco (TSCO), up 2.6% to 202.5p, Ocado (OCDO) up 2.5% to 837p, Sainsbury's (SBRY) up 2.2% to 265.7p and Morrisons up 1.8% to 219.7p ahead of this morning's trading update.
Other risers included beer and cider producer C&C Group (CCR), up 5% to €2.95, Eagle Eye, up 3.4% to 100p, Just Eat (JE), up 3.1% to 608.4p, SSP Group (SSPG), up 2.3% to 674.7p and Greggs (GRG), up 1.8% to 1,354p.
However, elsewhere there were a number of heavy FTSE 100 fallers, with their shares hampered by the weakening dollar.
Tobacco stocks were hit particularly hard, with Imperial Brands (IMB), down 4.5% back to 2,342.5p and British American Tobacco (BATS) down 3.3% to 2,497.3p. Also falling were Reckitt Benckiser (RB), down 2% to 5,843p and Unilever (ULVR), down 1.6% to 4,085.5p.
The day's other fallers included Premier Foods (PFD), down 2.2% to 34.2p, Greencore (GNC), down 1.3% to 184.6p and TATE & Lyle (TATE), down 1.2% to 664.8p.