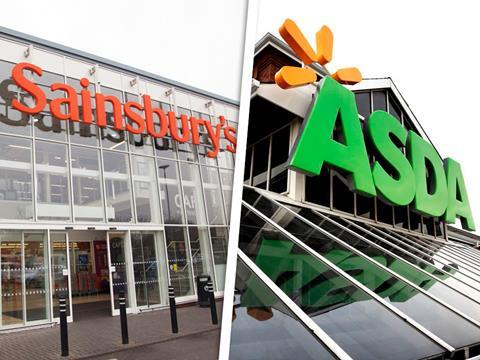 Suppliers have warned the proposed merger between Sainsbury's and Asda would lead to less choice for consumers and have a crushing impact on innovation for suppliers.

In documents published by the Competition & Markets Authority, two suppliers, who both asked to remain anonymous, set out their concerns about the merger.

It comes after the FDF warned many suppliers were frightened even to directly contact the authority anonymously because of the "climate of fear" imposed by retailers.

Supplier A told the authority it feared the merger would inevitably lead to money being sucked from innovation in the industry. This would damage suppliers because innovation was a "key enabler for long-term growth and expansion" it said.

"In particular, due to their significant scale the parties are integral to our overall innovation strategy across grocery and convenience channels, such that continued support from the merged entity, which is likely to become our largest grocery customer, would be essential for us to achieve a sustainable ROI.

"In other words, without the merged entity's continued support, an inability to achieve a sustainable ROI might deter us and indeed other suppliers from continuing to invest as frequently and/or as significantly in NPD and innovation."
The result, it claims, would be a "long-term detrimental impact on consumers, who would be faced with material reductions in product choice and/or quality".

Supplier B, in its submission, spoke about the threat to suppliers of a duopoly posed by the merged entity alongside Tesco.

"Unlike previous retail mergers, the proposed merger will cause a fundamental change to the structure of the grocery sector, to the detriment of consumers.

"Together the parties and Tesco will benefit from a duopoly with estimated segment shares of 80% of the major multiple segment, 60% of the total grocery segment and 70% of the online grocery segment," it said. "This will have significant negative implications and raise material competition issues at all levels of the supply and distribution chain, which ultimately will be extremely detrimental for consumer welfare."

The supplier predicted a further swing in bargaining power towards Sainsbury's and Asda would lead to "drastically reduced" supplier margins. It predicted Sainsbury's and Asda would resort to a host of tactics to use their new-found power, including refusing to list new products; delisting or threatening to delist individual lines or a significant volume of a supplier's products; and positioning private label products to the detriment of branded products.

Last week, the FDF said a host of suppliers were too frightened to speak out about the threat because of the fear of being delisted.

"Multinationals and small businesses alike have told us that they would not respond directly to the CMA in the same way they would not provide direct feedback to the Groceries Code Adjudicator where buyers contravene the rules set out in the Groceries Supply Code of Practice," it said.
The impact on reduced choice for customers, less innovation and a squeeze on suppliers was also a key theme of the summary of the preliminary responses published by the CMA in June. This was based on about 30 responses from individual accompanies and a raft of trade bodies, most of which are believed to have been hostile to the deal.

Competition lawyer Steve Smith, a partner at Bristows, said he believed the potential impact on innovation could be a key factor in the CMA's consideration of the merger. Behind the scenes it would be trying to gauge more input from suppliers, he said, even if many were too worried about speaking out publicly.

"We are starting to see a common thread of concern over the impact on innovation from those anonymous responses that have been published over the impact on suppliers and the threat this poses to innovation," he said.

"The importance of innovation is something that was in the issues statement and I think it will be a key factor. It's also something that the other retailers have picked up on in their responses.

"Whilst I don't think Sainsbury's and Asda will necessarily be too shocked at what has come out so far, I still think it's going to be very difficult for them."