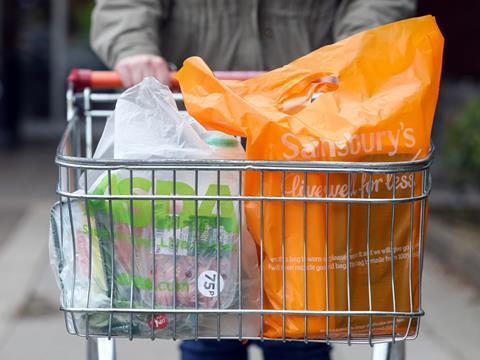 Asda and Sainsbury's could be given a green light for their controversial merger by agreeing to sell off as few as 23 stores, experts have predicted.

With the Competition & Markets Authority poised to launch an investigation into the proposed deal, a key part of its probe will look at the overlap between the catchment areas of Asda and Sainsbury's stores and the potential reduction in competition.

The CMA has the power to order the companies to sell off stores or block the deal altogether.
However, expert analysis suggests the pair will be helped in their bid by the growth of Aldi and Lidl, and the precedent the CMA established in its Tesco-Booker enquiry.

Exclusive research for The Grocer by CACI found if the CMA decided to class the discounters as competitors in its calculations, as it did with the Tesco-Booker investigation, the number of disposals facing Asda and Sainsbury's could be as low as 23.

Even if they are not defined as competitors, its research suggests the number of disposals would only rise to 68, based on a 'competitor set' of retailers falling within either a 15-minute drive in rural areas, or 10-minute drive in urban areas, as the CMA has done in the past.

"The CMA will focus on locations where the number of distinct, competitive retailers within a store's catchment would decrease to three or below, therefore lessening consumer choice," said CACI managing consultant Matthew Soffair.

"Despite the large number of overlaps between Asda and Sainsbury's supermarket estates (353 Asda stores have a Sainsbury's within a 10-minute drive), the likely number of disposals looks relatively low," he added.

"Whether you include Aldi and Lidl or not, these figures look relatively positive from Asda and Sainsbury's perspective, and shows the two supermarket store estates do look like a good fit from a geographical perspective."

But David Haywood, founder of Maximise, which worked on the Safeway-Morrisons deal and the Co-op's acquisition of Somerfield, suggested the number of competition hotshots would be higher than that predicted by CACI.

Haywood has identified 245 stores he believes could be seen as having a trading overlap.

But introducing Aldi and Lidl into the competitor set the number significantly decreases to just 73 locations, Haywood added. Excluding Aldi and Lidl, for example, there would be 60 trading overlaps in the South East, 46 in the North West and 30 in the West Midlands. However, once Aldi and Lidl are thrown in to the mix, those figures drop to 17, 13 and 8 respectively.

Haywood added: "It's been over 10 years since there was a merger involving store locations of this size. Therefore the guidance in these previous cases is now dated given current market conditions.

"Assuming Aldi and Lidl will be included it will have a massive impact on the numbers they see as a concern."

The Grocer revealed in November that the CMA backtracked amid pressure from Tesco and Booker to take the discounters into consideration in delivering its verdict on the £3.7bn merger, which was eventually waved through without any demand for store sell-offs.

The latest mega merger comes following a record-busting year for new store openings by the discounters last year with Aldi opening 76 stores, taking its total to 762 and Lidl opening 43 (total: 693) according to a report by UBS

Sainsbury's CEO Mike Coupe has already identified the CMA's decision to include Aldi and Lidl in its rationale as "establishing a precedent" which will allow the deal to go through, even though he admitted there may have to be some enforced disposals of stores. "We go into this process with our eyes wide open," said Coupe. "I could bore you for five hours about competition law and how it works, but it's best not to pre-judge the CMA enquiry, and let them decide for themselves."

CACI's Soffair added that Sainsbury's "have obviously done their research and believe they are in a strong position for the deal to go through."

Sainsbury's have called on the CMA probe to go straight to a Phase 2 stage, dispensing with the normal procedure of pre-investigation talks, with a successful merger set to give

the merged group 31.4% (compared with Tesco's 27,6%) of the market, according to the latest figures from Kantar.

This week MPs from the EFRA and BEIS Committees wrote to the CMA demanding to know what its exact criteria would be and whether, as well as local monopolies, the probe would take into account the potential impact on suppliers.