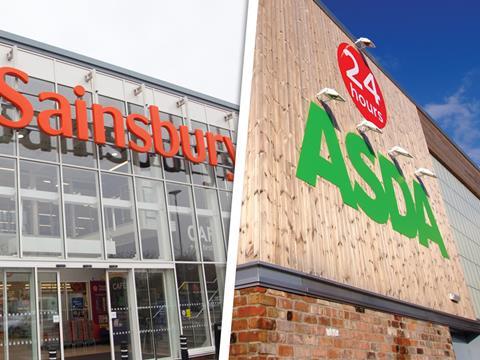 A leading shareholder in J Sainsbury has resoundingly backed its proposed £12 billion merger with Asda, saying that it would help the supermarket retailer to go "toe-to-toe" with Tesco (The Times £). Martin Walker, UK equities fund manager at Invesco Perpetual, the third largest shareholder in Sainsbury, said that Mike Coupe, the boss of Sainsbury's, was putting his job and reputation on the line for a merger that offered "huge" financial benefits.
Shareholders agree that the merger is a great deal for Sainsbury's, writes Deirdre Hipwell in The Times £. Since news broke of the proposed tie-up of Britain's second and third largest supermarket chains, Sainsbury's share price has climbed from 309p to 338.5p yesterday, an increase of more than half a billion pounds in the grocer's market capitalisation.
Sainsbury's lagged rivals as the worst performer of the UK's Big Four supermarkets ahead of its takeover of rival Asda, new industry figures show, despite the summer heatwave driving shoppers to the tills (The Telegraph). In the 12 weeks to August 12, Sainsbury's sales grew just 1.2pc, compared with a 3.5pc average across all the grocers. Sainsbury's boss Mike Coupe has been accused of taking his eye off the ball as the supermarket continues to lag behind its competitors (Daily Mail).
Additionally, the perfectly preened male stars of Love Island have helped fuel a boom in men's skincare products with sales surging this summer – up 16% in the 12 week period (The Guardian, Daily Mail).
First-round bids are being sought by the middle of next month by Glaxosmithkline for its consumer nutrition business, which includes the Horlicks hot drink brand outside the UK (The Times £). Europe's biggest drugs company put the business up for sale in March as it seeks to finance a $13 billion acquisition of the remaining stake in its wider consumer joint venture with Novartis.
Beauty group Coty shrank its full-year losses, but narrowly missed analysts' expectations for quarterly sales as disruption from its 2016 acquisition of brands from Procter & Gamble remained a drag and a trucker strike in Brazil disrupted supplies (Financial Times £). A net loss for the year to June of $169m was better than the $422m recorded a year ago, with loss per share improving to $0.23 from $0.66.
The wife of the Cranswick chairman Martin Davey has cashed in on more than half a million pounds worth of shares (Daily Mail). Linda Davey sold 15,000 shares at 3340p each 'for personal reasons', landing her £501,000, according to a stock exchange filing.
London charcuterie business Cannon & Cannon has bagged a "six figure" deal to sell cured meats in Lidl stores (Evening Standard). The tie-up will help the firm, which trades from Borough Market, to scale up. Thanks to the cash injection it will open a new slicing and packaging facility in November.
The appetite for YO! Sushi increased last year, despite the financial squeeze on the casual dining sector (The Times £). The sushi restaurant chain, renowned for serving food on a conveyor belt, said that total sales had risen by 1.7 per cent to £89.9 million in the year to November 27, up from £88.4 million 12 months earlier, as it opened six new sites in Britain.
Pizza Hut's UK business plunged to a £7million loss last year in the latest blow for the restaurant industry (Daily Mail). The pizza chain, which opened its doors in the UK in 1973, tumbled to a massive loss in the year to December 3 compared to a £5.6million profit a year earlier.
American fruit spread manufacturer JM Smucker saw shares fall 3.1% pre-market trading after the company reported quarterly revenue that fell just short of analyst expectations and lowered its full-year sales outlook (Financial Times £).
Strong global growth and the lift exports are getting from a weaker have kept factories busy this month, but the government needs to "lock in" a Brexit transition deal to ensure that manufacturing supports the economy, the CBI has said (The Times £).
President Trump has played down expectations before the start of America's first formal trade negotiations with China since the world's two largest economies imposed sweeping tariffs on each other (The Times £).
Urban Outfitters shares rose as much as 5 per cent in after-hours trading after the apparel retailer reported revenue and earnings that surpassed analyst expectations (Financial Times £).