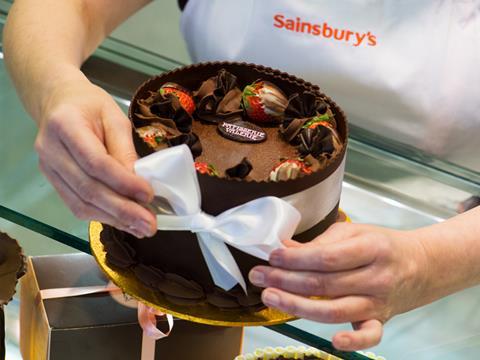 Sainsbury's is rolling out Patisserie Valerie concession counters and products to another 31 stores following a successful trial, bringing the total to 70.

The retailer kicked off the expanded tie-up on 4 July with Patisserie Valerie installations and cakes at its Rugby, Castle Court, Shorehead, Hazel Grove, Emersons Green, Stockport, Leicester North, Canley, Swadlincote, Stroud, and St Clares stores.

On 15 August, it will continue the initiative at its Edenthorpe, Wakefield Marsh Way, Nantwich, Salford, Denton, Wigan, Woolton, Halifax, Ashton Moss and Ripley branches, before introducing the products at its stores in Lancaster, Southport, Newcastle-under-Lyme, Wakefield Ings Road, Stanway, Southend, Newhaven Harbour, Alperton, Longwater and Chafford Hundred on 26 September.

The products stocked as part of the joint venture, first announced in April 2017, include Patisserie Valerie-branded cakes and pastries ranging from eight-inch gateaux to individual slices.

The supermarket said stores that took part in the original partnership trial saw "strong incremental sales" and "strong feedback" from customers.

Sainsbury's added that the move demonstrates its commitment to bringing its customers a "distinct, differentiated and convenient choice of quality food for every occasion."

All stores with Patisserie Valerie concessions offer a click & collect service, whereby customers can select or create their own cakes, choosing its fillings, sponges, toppings, ribbons and personalised messages ready for collection from the supermarket. More than 150 whole Patisserie Valerie cakes are picked up by customers each week using click & collect.

Sainsbury's confirmed this service would be available across the expanded partnership.

"Having seen such a positive response to the trial, we're excited to be bringing these premium products to bakery counters and customers all over the UK," said Adrian Cook, director of Sainsbury's fresh food. "Customers love the convenience of being able to buy everything they need for a celebration quickly, easily and all under one roof, including delicious Patisserie Valerie products."

Patisserie Valerie's CEO, Paul May, added: "We are very pleased to be continuing our partnership. This is such an exciting venture, which we feel brings a taste of Patisserie Valerie to your local Sainsbury's supermarket. This is an amazing opportunity due to the convenience it provides for our customers."
Sainsbury's has been increasing its selection of in-store concessions in recent years, including sushi counters, two Crussh fresh food and juice bars, and Ben & Jerry's and Carte D'or ice cream parlours.