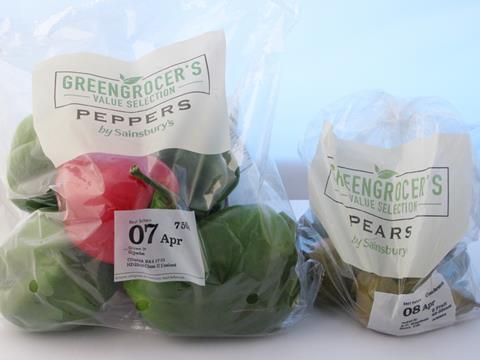 Sainsbury's is trialling a new budget range of fresh fruit & veg called Greengrocer's Value Selection, in a move that echoes the launch of Tesco's Farms range last year.
The first product under the Greengrocer's brand – a four-pack of apples – went into a small number of Sainsbury's stores back in September, priced at 80p.
It subsequently added a mixed pepper SKU at the start of December (rsp: £1.50/750g), and in recent weeks has added strawberry, lemon, onion and pear lines to the range.
Greengrocer's Value Selection is predominantly made up of class two produce, and available in selected stores only at this stage.
It appears to have replaced the equivalent Sainsbury's Basics lines, which BrandView.com data shows have been delisted.
The Greengrocer's products carry the same price as their Basics predecessors, apart from the new mixed pepper SKU, which costs £1.50/750g, compared with £1/600g for the previous Basics line.
However, the range is considerably cheaper than the standard Sainsbury's equivalent, according to BrandView, with 1.5kg of onions costing 90p - some 15p per kg less than a kilo bag of Sainsbury's standard onions.
Sainsbury's was "constantly looking to innovate and bring new ranges and products to our customers", said a spokeswoman. "This trial consists of a limited number of products, offering customers highly competitive prices but with the quality they expect from Sainsbury's. We are watching the trial closely and look forward to our customers' feedback."
The launch of Greengrocer's comes after Tesco unveiled its Farms range last March, replacing a raft of its Everyday Value fresh lines. The range of seven Farms brands was a response to a gap in the retailer's offer, and designed to give customers "the ability to buy everything they want under one roof", Tesco UK & Ireland CEO Matt Davies told The Grocer last spring.
The lineup – which has since been expanded to include the Bay Fishmongers brand – had been bought by more than two-thirds of Tesco's customers since launch, offering an average saving of 17% off the cost of a typical basket, said a spokeswoman or the retailer last week.