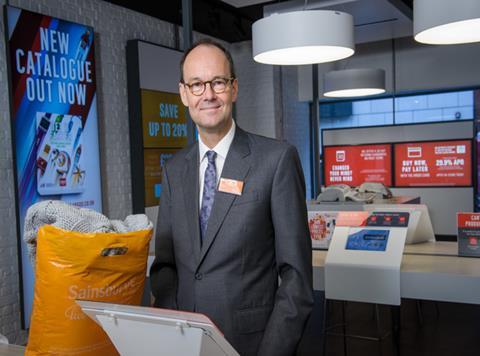 If we could see inside the mind of Mike Coupe, I'd like to think there would be a big neon 'I told you so' sign flashing inside his brain.
Ever since Sainsbury's revealed its bid for Home Retail Group a year ago, the CEO has batted off endless questions over the wisdom of his strategy. Aren't Sainsbury's customers fundamentally different from Argos customers? Isn't Argos essentially a catalogue business that was best left in the 1990s? And won't this divert attention away from Sainsbury's core business of food?
The Sainsbury's third-quarter results must leave Coupe feeling vindicated. Like-for-like Argos sales grew 4% over the 15-week period, pushing up the more modest growth of 0.1% at Sainsbury's. Argos concessions in Sainsbury's stores have largely done well and those that have been there long enough to record year-on-year figures have experienced growth of between 20% and 25%. The benefits have extended beyond Argos merchandise. There has been a "halo effect" of a 1%-2% sales uplift on the food business in the same store, according to Coupe.
Growth in online sales
It is clear to see how Argos fits in with Sainsbury's strategy of leading in the online arena. A whopping 57% of Argos sales in the third quarter were online, having grown 13% year on year. Put that together with Sainsbury's 9% in growth in online sales plus growing investment in click & collect – Coupe hinted he would like to increase the number of food collection points beyond 200 this year – and you can see a strong direction for the business.
Of course, it's too soon to pop the Champagne corks yet. It is still early days in the combined business, which only officially came together four months ago. As such, Sainsbury's only has 30 Argos concessions in place (although the ambition is to install either an Argos concession or click & collect point in all of its supermarkets). There is plenty more to happen before we can definitively hail the acquisition as a success.
And at today's press conference, there remained those pesky questions over whether Coupe has taken his eye off the ball. The fact that Sainsbury's has reported a slight decline in food sales will only fuel this speculation. Sainsbury's overall growth is undeniably less impressive than that of some of its rivals but, as Coupe says, neither has it suffered the massive setbacks of other supermarkets. So for now, Coupe has rightfully earned a quiet moment to enjoy the early success of his strategy.