Reports say Sainsbury's is pursuing an online marketplace model
Sainsbury's looks set to be the latest retailer to launch an online marketplace model, with reports suggesting it is courting high street fashion brands.
It will be a "new online marketplace" where third party brands will sell, with orders fulfilled from Sainsbury's nationwide distribution network, The Times reported this week.
Sainsbury's is said to have approached Jigsaw, White Stuff and Yours Clothing.
So, will the model – already being pursued by M&S, Walmart, Carrefour and Kroger, not to mention Boots, Superdrug and The Range, and commonplace in the fashion sector – pay off for Sainsbury's?
The timing is good. OC&C predicts marketplaces will by 2025 become as large as direct online retail in categories such as clothing, accounting for 45%-50% of online spend. Consumers like them: research this year by Mirakl shows 77% of consumers find marketplaces the most convenient way to shop online. Globally, consumers make 46% of their purchases through marketplaces (up 10% year on year).
While established marketplaces like Amazon dominate, there is still huge opportunity, says OC&C partner Mostyn Goodwin. "With Sainsbury's having built a few points of market share in fashion with their retail model, it could be a good way to unlock faster share without their operations falling over."
That's not been lost on Sainsbury's CEO Simon Roberts, who has long been talking about "brands that deliver" as part of his strategy to support the grocer's food business. The announcement that the grocer plans to invest £220m over the next three years in streamlining its general merchandise and logistics network suggests those plans are well underway.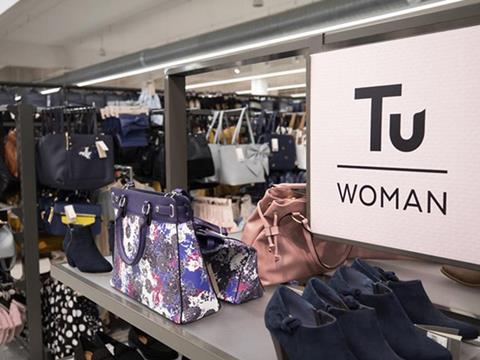 While groceries make up the clear majority of sales at Sainsbury's, clothing sales are an increasingly important part of the business – and growing at the same rate in sales (3%) year on year.
Meanwhile, online sales of Sainsbury's own fashion brand, Tu, were up 46% in the year to March 2023 versus pre-pandemic, the supermarket's latest trading update showed.Over the past few years Sainsbury's has already forged partnerships with a number of fashion brands. It has had Fat Face concessions in some stores since 2019, and also lists the brand on Tu.co.uk, along with Lilly & Sid and Little Mistress.
In January, it added the online-only women's brand Sosandar, ahead of plans to role items into some stores later this year. Further collaborations are expected "in order to provide new and existing customers with a broader selection of products" Sainsbury's said.
Risk and reward
A new marketplace would allow the supermarket to "broaden its range, access incremental customers or missions, and improve the economics of a category given no inventory risk and attractive gross margins", says Goodwin. An expansion into a full-scale marketplace would also provide Sainsbury's with the data to determine which brands to stock in stores.
But marketplaces are not, of course, risk-free. John Lewis in 2021 faced a backlash from third party brands over a proposed 50% commission on sales via its marketplace. Next and M&S are understood to take around 38%, with reports week suggesting M&S sees an opportunity to poach brands from JLP, having already won over Seasalt.
Fox Williams partner and fashion specialist Stephen Sidkin says Sainsbury's could also be seeking to capitalise on JLP's struggles. Sainsbury's appointment of former John Lewis boss Paula Nickolds as head of its non-food business in 2021 could help this ambition.
"Ironically, this move by Sainsbury's and others means supermarkets are edging closer to becoming department stores," Sidkin says.
Goodwin warns Sainsbury's will need to manage potential cannibalisation of sales, along with "the trade-off between a curated experience, in keeping with the existing Sainsbury's brand, value perception and experience, and the far broader marketplace range required to be a credible player".
And there is always the risk of "reputational issues" with third party brands, Sidkin notes.
Sainsbury's will also need to convince enough brands to join the party – something it has managed with Sosandar, Little Mistress and Finery. But that's not a difficult sell given the supermarket's might, says Sonia Summan, MD of consultancy Fashion Strategists.
"They can reach a wider audience and potentially increase their sales revenue. Sainsbury's has a large customer base which fashion brands can tap into and attract new customers," she says.
While there are brands who would avoid the association with a mainstream supermarket, there are many more who would relish it. Appearing on the Sainsbury's site would be a huge credibility boost for many, Summan adds.
"By associating themselves with a well-known and respected retailer, brands can enhance their reputation and appeal to customers who are looking for quality and reliability," she says.
"Ultimately – why not? Reaching more consumers, in the most convenient way, is really key right now."