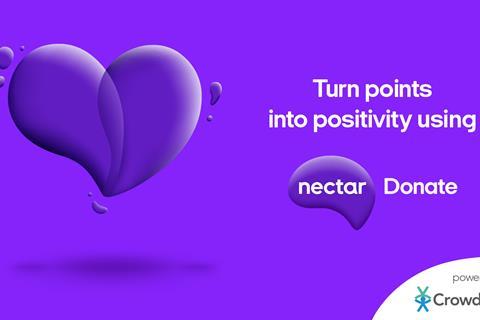 Sainsbury's has launched an initiative that lets Nectar loyalty scheme members donate their points to charity.
Each donated Nectar point will be converted into funding that goes directly to the customer's chosen charitable organisation – including local groups as well as larger national charities such as Alzheimer's Research UK and Macmillan Cancer Support.
The Nectar Donate option, provided in partnership with Crowdfunder, is available to use any time on the Nectar digital app, and the minimum donation value is 200 points, equivalent to £1.
"We're proud to have teamed up with Crowdfunder to launch Nectar Donate, a new and simple way for customers to support the charities and causes they really care about with their Nectar points," said Nectar head of loyalty and CRM Alex Naisby.
"Our customers have always been extremely generous whenever we have run charity donation campaigns in the past and we know many of them are interested in supporting local charities.
"So, whether it's donating those forgotten points or a bank of saved-up points, we're making it even easier for customers to turn their Nectar points into positivity."
Sainsbury's said a survey it conducted in 2020 found the majority of Nectar customers would like to donate points to charitable causes.
According to the supermarket, there are about £250m worth of points across Nectar's 18 million UK members.
Shoppers who decide to take part in the Nectar Donate programme will receive updates on how their donation has helped support their charities of choice.
"At a time when charities have suffered massively due to the pandemic and donors have felt the pinch, this amazing partnership creates an entirely new way for people to give to, and fundraise for, the causes they care about," said Crowdfunder founder Simon Deverell.
"We're really excited about this revolutionary new approach to charitable giving and we're so pleased to add this innovation to our suite of products."