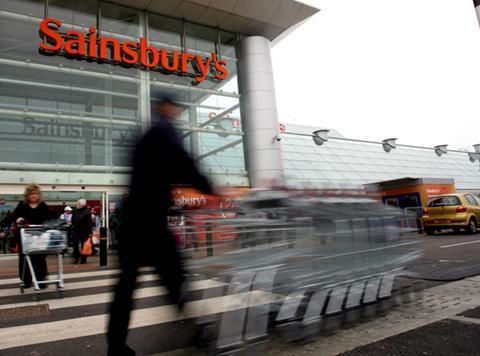 Sainsbury's is today committing to a £1bn investment as it seeks to become carbon neutral by 2040.
The retailer plans to use the cash to implement a programme of changes, with a focus on reducing carbon emissions, food waste, plastic packaging and water usage. It will also look to increase recycling, biodiversity and healthy and sustainable eating.
Sainsbury's said it would also work with suppliers to set their own ambitious 'net zero' commitments, in line with the United Nations' Paris Agreement goals.
The supermarket's current carbon footprint is one million tonnes, which it said represented a 35% absolute reduction in the past 15 years, despite its space increasing by 46% over the same timeframe.
The investment will put Sainsbury's on course for 'net zero' a decade ahead of the UK government's deadline.
"Our commitment has always been to help customers live well for less, but we must recognise that living well now also means living sustainably," said CEO Mike Coupe.
"We have a duty to the communities we serve to continue to reduce the impact our business has on the environment and we are committing to reduce our own carbon emissions and become 'net zero' by 2040, 10 years ahead of the government's own targets, because 2050 isn't soon enough."
Across the Sainsbury's business, programmes will be implemented in seven core areas. They will include reducing carbon emissions, lowering water and plastic usage, recycling, tackling food waste, pushing healthy and sustainable diets, and biodiversity.
As part of the push to become carbon neutral in the next 20 years, Sainsbury's will make its fridges as efficient as possible by increasing the use of natural gas refrigerants, while ramping up its use of electric vehicles and alternative fuels. It also aims to become a water neutral business by 2040, halve plastic packaging by 2025, halve food waste by 2030 and continue to expand its meat alternatives offering.
All its stores will be 100% LED lit by the end of 2022.
As part of its continued work with the Woodland Trust, Sainsbury's also expects to plant more than 1.5 million trees between now and 2025.
"We recognise that we have a once in a lifetime opportunity to make the changes needed to help the planet exist sustainably," Coupe added.
"We have over 27 million customers each week and almost 180,000 colleagues, and we hope that we can collaborate across industries and sectors to help create momentum and drive meaningful change. Only when the trajectory for global warming slows to a maximum of 1.5 degrees will we all know that we can truly live well for less now and in the future."
COP26 (United Nations Climate Change Conference) president-designate Claire O'Neill said: "It's fantastic to see Sainsbury's committing to hitting net zero by 2040. It's vital that big organisations recognise the responsibility they have in curbing emissions.
"Today's announcement is an outstanding example that being green shouldn't be a barrier to success. I hope to see other major supermarkets following their lead ahead of the COP26 UN climate conference later this year in Glasgow."
Hugh Jones, MD advisory services of the Carbon Trust, said: "The Carbon Trust has worked with Sainsbury's to set science-based targets for its own operations and is now working to extend these targets to the value chain.
"Sainsbury's goal to get to net zero by 2040 is ambitious and will help raise the bar for the sector."