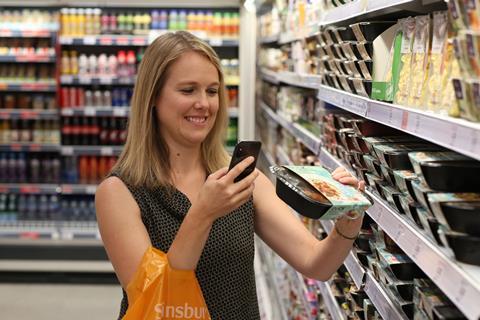 Sainsbury's is opening its first till-free store, where customers will scan their shopping with their smartphones, bag it and go.

Customers at the Sainsbury's Local in London's Holborn Circus can pay anywhere in the store using the supermarket's Smartshop app, which is currently being trialled in eight other London Local branches alongside checkouts.

The Holborn store's checkout area has been removed in a refurbishment. The branch has also become a "bespoke food-to-go store", with a range tailored for busy customers buying breakfast, lunch or other food to eat now, including freshly baked pastries.

The move is a UK supermarket first but doesn't promise quite the seamless shopping experience of Amazon Go in the US, where customers scan their phones at a turnstile on entry and then simply take their shopping and leave. With Sainsbury's Smartshop, as well as scanning as they shop and paying in the app, customers must scan a QR code sign in the store before leaving.

Saimsbury's said customers wishing to pay by cash or card at the Holborn store would still be able to do so at a help desk.

The "experiment" is to last three months during which Sainsbury's will gauge customer and staff feedback with a view to rolling it out more widely, according to a spokeswoman.

She said 82% of transactions at the store were already cashless before it reopened as the first till-free branch today.
Posters in the windows of the Holborn Sainsbury's Local say: 'Get ready to trial our first mobile pay only store.'

"We know our customers value their time and many want to shop as quickly as possible. Technology is key to that," said Sainsbury's group chief digital officer Clodagh Moriarty.
"This is an experiment rather than a new format for us. It hasn't been done in the UK before and we're really excited to understand how our customers respond to the app experience. We'll be with our customers and colleagues all the way over the coming months, iterating continuously based on their feedback before we decide if, how and where we make this experience more widely available."

Sainsbury's design implementation manager Richard Fisher wrote about the store on LinkedIn yesterday, saying the 'big reveal' would come today.

'It's Sunday morning, we're in store changing retail,' he wrote. 'I'm genuinely really excited and proud of the team delivering in under four weeks.'

Sainsbury's Smartshop software engineer James Coleman tweeted: 'Coming soon to Sainsbury's Local Holborn Circus: mobile pay only. No queues. Checkout anywhere. Courtesy of yours truly.'

The Grocer revealed in February that sites had been secured in London for the first UK Amazon Go stores. In April it emerged that Portuguese tech startup Sensei was working with a major UK grocer to open a similar store concept, allowing shoppers to take their shopping and walk out, later this year.