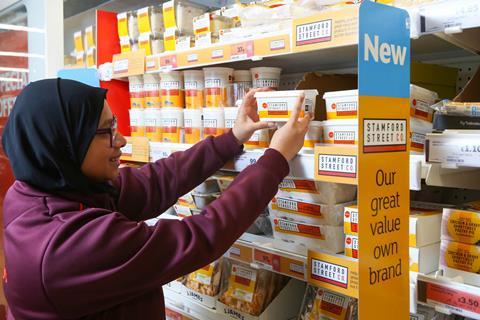 Sainsbury's has relaunched its own-brand value range, as it seeks to highlight its lower price credentials amid the cost of living crisis.
The grocer will consolidate its existing value ranges, which include dairy range Mary Ann's and meat range J. James, under a single new label called Stamford Street.
The rebrand, which is in homage to Sainsbury's former HQ in London's Blackfriars, comes after the supermarket saw a 10% rise in sales of its own-brand value lines over the last three months. The unified range would make it easier for customers to spot value on shelves, Sainsbury's said.
The Stamford Street range will initially consist of around 200 lines including every day staples, but will be expanded over time. Around 10% of products in the range will be new, Sainsbury's said. It includes 20 new "high volume products" including Soft Spread, Beef & Onion Pie and Cheese Tortelloni.
"Our own brand products are becoming more and more important to our customers as the cost of living crisis continues to impact so many households up and down the country," said Rhian Bartlett, food commercial director at Sainsbury's.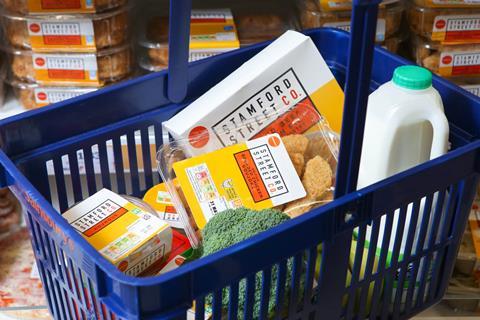 "This is why we've worked to consolidate and rebrand the Stamford Street range to help our customers more easily find it in stores and online. Offering customers delicious food at affordable prices has been at the heart of Sainsbury's for over 150 years and this is why I'm so proud to see these products now on shelves," Bartlett added.
The range will gradually be rolled onto shelves between now and Autumn.
The move follows what CEO Simon Roberts promised would be further investments across Sainsbury's lowest price tiers, during the publication of the supermarket's annual results in April.
Food price inflation continued to surge, at 19.1% in April according to the latest figures from the ONS. This was down slightly from March's 19.2% but the second highest since 1977, and well above the general inflation rate of 8.7%.
The mismatch has led to calls for food producers and sellers to do more to reign in prices.
Chancellor Jeremy Hunt met with food producers on Tuesday, following Number 10's own summit with producers on 16 May. Supermarkets face a further probe by the CMA which is investigating whether unfair competition is keeping prices high.
Speaking to the BBC following the launch of the new range, Roberts dismissed accusations that supermarkets like Sainsbury's are profiteering from inflated grocery prices, insisting that it had made less money in order to keep prices low.
"We made less profit year-on-year and that's because we made really conscious decisions to keep our prices as low as we could," Roberts said, echoing statements made during April's results call. Sainsbury's pre-tax profits of £690m in the 12 months to March were down from £730m the previous year.
The supermarket has invested £560m in lower prices over the last two years. It includes an extension to its Aldi Price match, which has been rolled onto more products and heavily advertised with ceiling banners and POS signage in store.
In April the grocer launched Nectar Prices, its own equivalent of Tesco's long running Clubcard Prices. Sainsbury's said that over 1,300 products had been included in the scheme since then.
It's also been among a number of supermarkets to cut the price of butter, bread and milk over the last month.