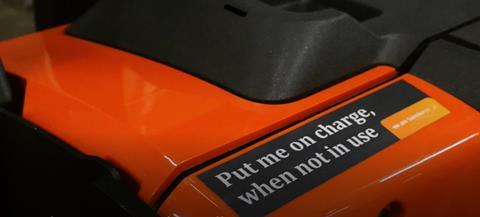 Sainsbury's has claimed a UK supermarket first by replacing its manual pallet trucks with more energy-efficient versions.
It has swapped the pallet trucks used by its in-store staff for pro-lifters and kinetic-powered ones, while those in the stock room will now use lithium-ion trucks in place of lead acid battery manual equipment.
The 1,200 trucks, provided by Toyota, will be used by shopfloor and back of house teams to move large amounts of stock.
The pro-lifter trucks have easier manoeuvrability, as their kinetic power assists the handler when moving off, meaning they can lift stock without the need to pull the equipment from a standstill position as their manual counterparts require. In addition, this equipment for shopfloor staff does not need charging, whereas the former fleet needed to be charged for up to eight hours a day.
The kinetic-powered machinery can also connect to the internet to inform staff of any faults or maintenance issues.
Sainsbury's anticipates the move will save the equivalent of the amount of power needed for around 700 averaged-sized UK homes for 12 months.
The change comes as part of its wider commitment to become net zero within its own operations by 2040.
"We're constantly striving to work as efficiently as possible as well as pioneering new ways to work more sustainably," said Danny Malyon, head of facilities management at Sainsbury's. "The new fleet will ensure our store colleagues have improved access to very important equipment for them to undertake their work, while significantly reducing the energy used. This new manual handling equipment will make a big difference to store operations, our maintenance bill and our energy consumption overall."
Patrick Dunne, director of property, procurement and cost transformation at Sainsbury's, added: "We're proud of our ambitious target to become a net-zero business across our own operations by 2040. We will continue to innovate and invest in new technologies across our store estate as we work to reduce our energy consumption and pave the way for other supermarkets."