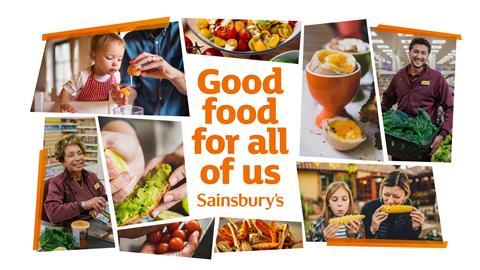 Sainsbury's has unveiled a major new brand refresh under the slogan 'Good Food For All Of Us'.
The phrase will feature in all its advertising campaigns from November, as the supermarket aims to demonstrate its health, innovation and value credentials during the cost of living crisis.
Through the new brand "promise", Sainsbury's said it wanted to provide "good" food for all customers, whatever their budget or dietary requirements.
It's the first marketing campaign of a partnership with the creative agency New Commercial Arts – which took over the advertising contract in April this year – and will feature across TV, radio, in press, out of home and in cinemas.
"Everyone at Sainsbury's is passionate about the food we sell, and this includes not only our 152,000 colleagues up and down the country, but our suppliers, farmers and fishing partners too," said Radha Davies, director of brands, planning and creative at Sainsbury's.
"Yet we recognise that it can sometimes be difficult for customers to have the time, money or inspiration to access the joy that good food can bring. So, we want to go further by actively helping to put good food – in all of its senses, from quality and taste, to value and accessibility – at the heart of customers' lives."
The refresh follows several major changes by the supermarket over the past year as it has looked to respond to the cost of living crisis.
It has invested heavily in lowering prices, including through the extension of its Aldi Price Match scheme, which now sits across 400 products. In April, Sainsbury's launched its Nectar Prices loyalty programme, which has been billed as a rival to Tesco's ClubCard Prices. The now flagship scheme now sits across all categories, and more than 5,000 products in its range.
The supermarket also relaunched its value tier in May, rolling of all its lowest price own labels under the single Stamford Street brand.
Those price moves have come alongside a series of NPD and sustainability developments, including the launch of a new health-focused on the go line, Flourish, in December 2022.
Earlier this month, it unveiled what it claimed was "the largest low-carbon beef range ever", with the relaunch of its Taste The Difference Aberdeen Angus Beef range. The 16-strong range has a 25% lower carbon footprint compared with the industry standard, Sainsbury's said.