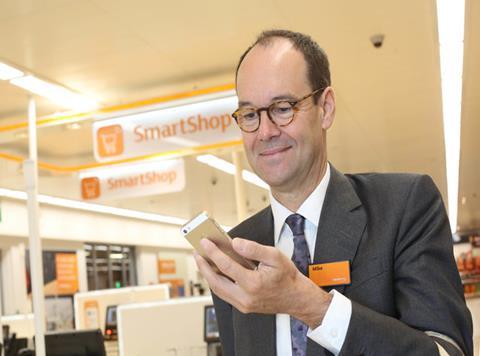 Sainsbury's has extended the trial of its in-store shopping app from two to 10 stores after a year of testing.
The SmartShop app, which was first trialled in Alperton and Harpenden last October, is now available in an additional eight stores around the country with updated features.

Customers will now be able to download the app to create shopping lists, scan their items and pay at dedicated card-only checkouts in Bracknell, Stevenage, Hertford, Welwyn Garden City, Chipping Ongar, Liphook, Alton and Leeds Colton stores.

The app was updated on Monday to make it "easier to use" based on feedback from customers in the initial two stores. There will now only be one shopping list per customer to avoid the confusion created by multiple active lists, and 'quick add' tags for popular items that customers need only tap to add into their basket.

Scanning is also set to become easier, as customers can scan the barcode and add an item to their basket with just one tap.

And when customers are ready to pay, they will now be able to see everything in their trolley in one list on their mobile before they check out.

Due to its limited trial, the app only has 15 ratings on the iTunes store and has an average of 2.5 stars out of five. But most of the negative reviews focus on the slow rollout, rather than the customer experience. "You're taking far too long to roll out this trial," said one, and another questioned "the point" of the app when it was available in so few stores.

The actual programme mostly attracted positive reviews; one customer said it was "awesome" to avoid the queues and another wrote that it made their shop "a lot quicker".

Sainsbury's is not the only supermarket to invest in an in-store app. Waitrose rolled out its scan-as-you-shop app Quick Check to all stores in June, and Tesco is planning a nationwide rollout of its mobile payment app PayQwiq next spring.