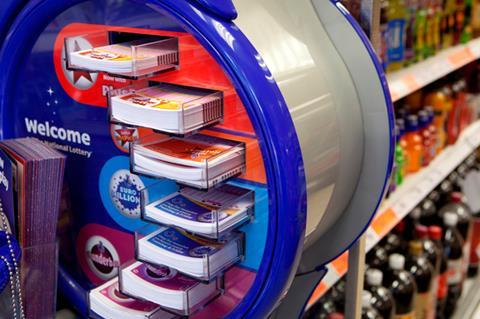 Sales of National Lottery tickets and scratchcards fell 3.9% to £4.7bn across UK retailers in the year to 31 March.
Camelot, which earlier this year failed in its bid to secure the next licence to run the lottery from 2024, said the fall was driven by customers affected by the rising cost of living and the lifting of Covid restrictions leading to "greater competition for people's attention and spend".
Returns to good causes from National Lottery sales, however, were the highest yet for a second year running, it said.
"At a time when the National Lottery has faced uncertainty on a number of fronts, Camelot has once again raised a record amount for good causes from ticket sales, and has also ensured a record-equalling £3.1bn was once again generated for society through good causes, Lottery Duty and retailer commission – at a time when other funding sources are being squeezed," said Camelot chairman Hugh Robertson.
"An incredible £46bn has now been raised for National Lottery good causes – around 65% more than government expectations at launch. With sales of over £8bn for two years running, the National Lottery as a whole remains in fantastic shape – with sales of draw-based games continuing to be especially strong."
CEO Nigel Railton said: "My 1,000 Camelot colleagues and I are incredibly proud of what we've built: a strong, resilient business and a huge UK brand that brilliantly connects the National Lottery's unique purpose with play. In the year ahead, we'll continue to invest and innovate to respond to the changing consumer environment because we all care deeply about the future of the National Lottery – and the vital difference that it continues to make to the whole of the UK."
Camelot is currently understood to be seeking a judicial review into the decision of the Gambling Commission to award the fourth National Lottery licence to rival Allwyn Entertainment.