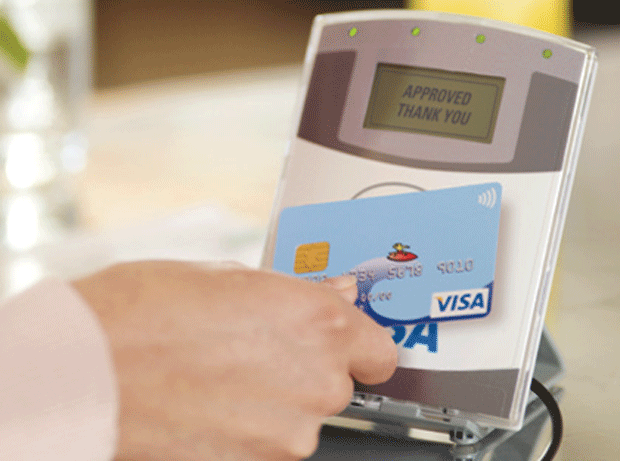 Contactless payments are set to take up an increased proportion of retail takings from today, with an increase in the £20 transaction limit to £30.
The UK Cards Association said the average supermarket shop of £25.17 now fell below the contactless limit, giving shoppers more choice about the way they can pay for goods.
It said people would start to see more shops where they could make contactless payments up to the £30m limit from today (1 September) as software was rolled out across those retailers that accepted contactless payments.
WorldPay said many of the larger stores would be ready to take up to the £30 limit from the off.
And it said an automated process called a "heartbeat" had started to update all the terminals used by smaller stores in the early hours of Tuesday morning to increase the amount they were able to take on their Worldpay terminals.
"Increasing the limit to £30 will only intensify the demand for convenience and speed everywhere we shop," said MD Dave Hobday.
The Association of Convenience Stores (ACS) said while the £30 limit came into force from 1 September, there was no set timeline for upgrades.
"We encourage retailers to contact their point of sale device provider in due course for more information about upgrading their contactless terminal," an ACS spokesman said.
Nick Mooney, partnership manager of Barclaycard Business Solutions, who works closely with the National Federation of Retail Newsagents (NFRN), said most NRFN members would have undergone overnight software upgrades.
Ruth Milligan, retail finance policy adviser at the British Retail Consortium (BRC), said the UK retail industry had been swift to embrace innovative payments products such as contactless cards. Consumer take-up was already showing the popularity of such methods of payment.
"The shift from the £20 pound limit to the £30 limit for contactless is not expected to cause any significant problems and the members of the BRC will continue to offer their customers payment products which, through their ease and speed, enhance the experience of customers in stores," Milligan said.
New data from the UK Cards Association shows consumers spent more than £2.5bn on contactless cards in the first half of the year compared with £2.32bn for the whole of 2014. Spending using contactless climbed from £287m a month in January to £567m in June.
The UK Cards Association says more than 69m contactless payment cards are in circulation – more than 9.3m of which were issued in the first six months of this year.