Empty shelves. Panicked shoppers. Stores on the brink of closure. July's 'pingdemic' stretched the food chain to breaking point. But this week, as changes to self-isolation rules mean fully vaccinated workers must no longer isolate, new research by The Grocer reveals food shortages have now eased.
Supermarket out-of-stock levels have fallen to about 3.8% from a peak of 7.8% in mid-July. The norm is 2%-3%.
Yet the worst may still be ahead, according to food and logistics experts, who point to a chronic driver shortage far from over, new Brexit checks set to begin in October, and Christmas planning.
Tesco has been hardest hit, with out of stocks averaging 8.6% since early June, according to the data from Assosia, which is based on retailer websites.
Jonathan Kittow, director at Simply Supply Chain, said "Tesco's scale is counting against them this time," as it is more reliant on 3PL providers.
But a Tesco spokesman denied this: stock levels on its website were based on a single store, it explained, and therefore the figures "do not represent national availability, which remains strong".
"We're proud that The Grocer's own Grocer 33 survey has recognised the hard work of our colleagues over recent months, with Tesco having the highest average availability of any supermarket this year."
In contrast, Asda – averaging 5.3% out of stocks in the survey – said the figures were "broadly comparable with our own", with availability "consistently high (95%+ on most lines)," while noting some categories were impacted further by recent range rationalisation.
Ocado's online-only model meant it had the best availability in the survey, with out of stocks at 2.2%, but that is still higher than pre-pandemic levels, and last month it reported that it had been forced to deploy some of its own lorry drivers to help suppliers get stock to its CFCs.
It's not the only one. Several supermarkets have also been using their own fleet and haulage partners to support suppliers that are struggling. In the case of Morrisons, where out of stocks are running at 5.3%, according to the survey, it was "in a position to collect from any supplier should they need us to, whilst still maintaining high service levels to our stores", said a spokesman.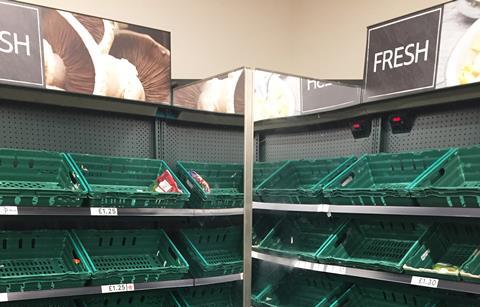 Morrisons was also being more flexible in its handling of suppliers. It has reorganised its logistics operations to accommodate both inbound and outbound, introduced a new logistics partner and commissioned a new consolidation network "allowing us greater flexibility to onboard additional suppliers, while providing more flexibility on 'goods in' to accommodate for any that are running late," said the spokesman.
It has also been reviewing its order multiples and frequency – "trying to create fewer but fuller vehicles, mainly in ambient" – and changed planograms where necessary, he added.
On the supply side, the prioritisation of fresh produce by supermarkets has had a knock-on effect on ambient goods, bottled water and carbonates, though shortages of petfood – the worst-hit category at 7.4% – has also been impacted by shortages of raw materials and long-haul freight challenges.
For supermarkets, however, there has been the additional problem of supplying outbound stock from their DCs to stores, and warehouses are filling up, resulting in suppliers being unable to deliver in some cases, said Kittow.
Iceland, whose out of stocks currently average 4.7%, conceded "issues are present throughout supply chains and impact suppliers before goods reach us, while logistics issues are affecting our ability to get stock into our network of stores".
Iceland was "consciously prioritising deliveries of certain categories to our stores across frozen, chilled and grocery, based on sales data and our understanding of our customer", it added.
As well as summer lines, Sainsbury's has been prioritising particularly busy stores in holiday destinations such as Devon and Cornwall. Out of stocks are running at 5.2%, the survey found. A spokewoman added: "We are working hard to ensure customers can find what they need. While we might not always have the exact product a customer is looking for in every store, large quantities of products are being delivered to stores daily and our colleagues are focused on getting them onto the shelves as quickly as they can."
To address the shortage of HGV drivers, both Morrisons and Iceland have set up new driving schools. A 12-week training course for Morrisons colleagues has to date attracted over 1,500 applications, said a spokesman.
But the pool of drivers has barely risen since the start of the crisis, meaning competition for drivers is fierce. And many retailers are trying to tackle the driver shortage through better remuneration. Tesco and M&S, for example, are offering new drivers a sign-on bonus of £1,000 and £2,000 respectively.
The move has angered suppliers. "All they've done is poach drivers from elsewhere," said one trade body head. "And then when suppliers say they can't deliver because they haven't got the drivers any more, Tesco are turning around and charging substantial increases to collect it.
"It's dog eat dog out there," he added, with one supermarket "taking drivers' personal details while they're delivering to DCs and offering jobs while they're still unloading".
And many suppliers continue to complain supermarkets are taking inadequate steps to alleviate the crisis. Walter Zanre, MD of Filippo Berio UK, said he has warned all customers to hold more stock than normal to protect against a failed or delayed delivery. "But from the big four and Waitrose, we've had nothing back. We politely suggested they carry a bit more stock and they nodded, but I haven't seen any reaction."