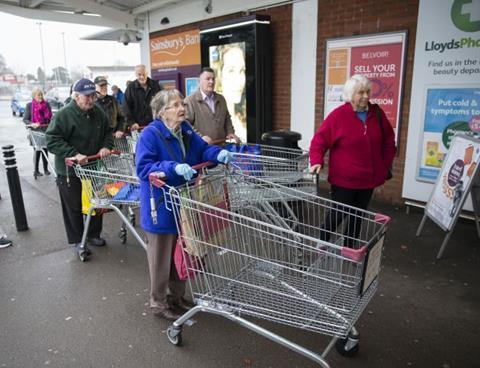 A string of the UK's biggest food retailers have taken the unprecedented step of setting aside trading hours for the elderly to help them access supplies.

Iceland led the way at the start of the week by encouraging its store managers to dedicate the first two hours of opening on Wednesday, from 8am, to shoppers of "state pension age".

The estate-wide move came after a branch in Belfast set aside 8am-9am on Tuesday to help those most vulnerable to coronavirus stock up.

"We commend the action taken by our colleagues in the West Belfast store," said a spokesman. "We are focused on being able to feed the nation and to support those most in need."

Supermarket giants Tesco and Sainsbury's followed suit.

Sainsbury's set aside an hour of trading on Thursday for elderly and vulnerable customers. "I hope that you can respect this decision and will work with us as we try our best to help those that need it the most," CEO Mike Coupe wrote to customers.

Tesco would set aside an hour of trading every Monday, Wednesday and Friday, from 9am, to prioritise the elderly and vulnerable shoppers, the supermarket said.

"At Tesco, we have been doing everything we can to keep business as usual, but we now have to accept it is not business as usual," CEO Dave Lewis wrote in his message to customers.

M&S, Waitrose and B&M were among those to announce similar moves. M&S said all its own stores were setting aside the first hour of trading on Friday (20 March), followed by every Monday and Thursday. It also introduced dedicated NHS and emergency service workers hours each Tuesday and Friday.

Waitrose said the elderly and vulnerable would be prioritised for an hour from Friday, while B&M said it was planning a similar measure.