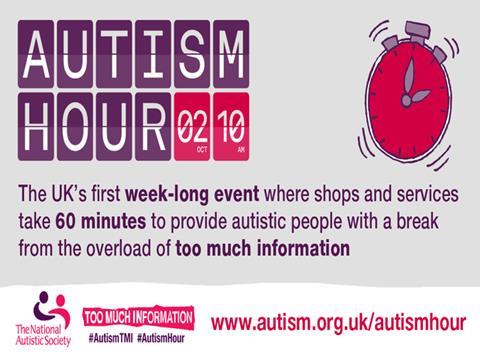 Sainsbury's, Co-op and M&S stores are due to take part in The National Autistic Society's "autism hour" on Monday.

More than 600 Sainsbury's stores, 2,500 Co-op stores and selected M&S stores will make their environments more "autism-friendly" at 10am to mark the charity's annual initiative.

Co-op branches will turn off the in-store radio, TV screens and Tannoy announcements to give shoppers with autism a break from the "overload of too much information".

Meanwhile, participating Sainsbury's stores will turn down Tannoy and self-checkout sound, as well as turning off café music, to create a "calmer shopping environment". Staff will also be on hand to provide information on autism.

The National Autistic Society runs an autism hour every year to raise awareness of the condition and make shopping easier for those affected.

This year, 4,500 stores and shopping centres are taking part in the initiative including the entire Trafford Centre, Clarks, Toys 'R' Us, Superdrug and Pets at Home.

In a 2015 National Autistic Society survey of more than 7,000 autistic people, 64% said they avoided going to shops because of their autism. They named shops and supermarkets as the most important places they wanted to become autism-friendly.

"The smallest changes can make the biggest difference for autistic people and we are confident this event will help shops and services understand how we can work towards a more autism-friendly world," said National Autistic Society CEO Mark Lever.

Over the past year, a number of supermarkets have unveiled initiatives to help shoppers with autism.

Three hundred Asda stores are taking part in its Happy Little Helpers initiative, which involves giving children with autism a shopping list with symbols of groceries such as fruit, vegetables and biscuits to help them "ignore distractions".

Morrisons ran a "quiet hour" in three stores - Lincoln, Gainsborough and Woking - and is evaluating the "overwhelmingly positive" feedback.

Tesco also trialled a "quiet hour" at its Crawley Extra store in January. Stores will decide on an individual basis whether they choose to take part in the initiative on Monday.