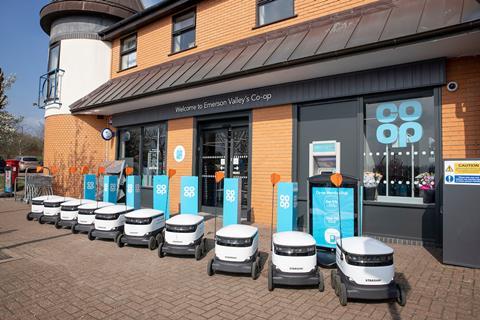 Starship Technologies has successfully completed 50,000 grocery deliveries for the Co-op and Tesco using robots.

The two autonomous robots have been delivering for a Co-op branch in Monkston for a year. The service was rolled out to a Tesco Extra in the town's Kingston Centre in January this year and a second Co-op branch in nearby Emerson Valley earlier this month.

The US startup's robots also deliver in university campuses and a business park in the US, and to residents of Tallinn's Mustamäe borough in Estonia.

They made their 50,000th delivery in Milton Keynes this week, having covered over 200,000 miles in total.

The six-wheeled robots, which travel at up to 4mph and use nine cameras to navigate, deliver thousands of orders a week, with the most popular purchases including milk, bread and chocolate, according to Starship.

They deliver within a two-mile radius of stores in under an hour and have managed delivery in as little as 15 minutes. Orders are placed on Starship's app and the delivery charge is just £1m, with no minimum basket value.
The addition of the latest Co-op stores saw the area served expand to reach 11,000 households. The Co-op has also increased its commitment to the trials, with orders now picked in store by its own staff, where they were initially picked by Starship workers.

It's one of a number of rapid delivery initiatives underway at the Co-op, including an electric cargo bike service launched last month from a store on London's King's Road in Chelsea, with orders taken on a new dedicated website. In a third trial, the retailer has partnered with Deliveroo at 11 London stores and five in Manchester.

"This is an exciting time for the Co-op, with innovations and new technologies driving a number of different home delivery schemes," said Chris Conway, the retailer's head of food digital.

"It is all about ease, convenience and choice for today's time-pressed shopper. The popularity of our work with Starship is clear to see in Milton Keynes, with children leaving messages and drawings with the robots, and expressions of thanks from members of the community."

Starship CEO Lex Bayer said: "Today is a significant milestone for Starship as we celebrate passing 50,000 deliveries with our autonomous robots. The popularity of our service continues, and we are delighted to be expanding to additional neighbourhoods and university campuses across the world. It has been exciting to see the increase in top-up shopping by residents in Milton Keynes where they buy groceries on multiple occasions throughout the week, now that they have the option of autonomous delivery."

Milton Keynes resident Gillian Bailey, who received the 50,000th delivery, said: "Since the robots came to our neighbourhood last year, they've become such a popular and common sight in the community. With my hectic schedule, it's really convenient to get my groceries delivered by the robot right to my front door while I'm busy with other things around the house. Our community feels really lucky to have this service available in our area, and I know many people who use it regularly throughout the week. I've already made over 100 orders since Starship first set up shop here and I'll be making many more."