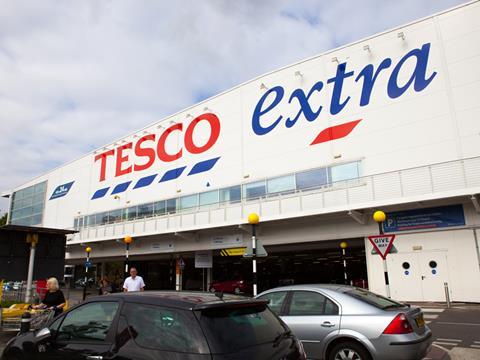 Tesco is to change the service model at nearly 50 of its stores, including ending 24-hour opening, switching from night-time to daytime replenishment of stock and cutting the number of customer service counters.

In the latest move 20 stores will no longer offer 24-hour opening. This is on top of the 76 stores it revealed in January were to shut at night.

Most of the stores involved will also switch from night-time replenishment to "twilight" hours for staff to restock the shelves.

Tesco said 2,000 staff had entered a 45-day consultation period this week over the changes, which will affect a raft of Tesco Extras and superstores.
Tesco offers escape route for BHS staff
Tesco has urged its management to offer jobs to the 11,000 BHS staff set to lose their jobs after the collapse of the high street department store.
In a letter to stores, Oliver Duhl, the retailer's people partner (resourcing), urged Tesco managers to offer support for those affected, as well as run special events to tell them of the 4,000 vacancies available at Tesco.
"As you will all be aware, BHS has announced its closure which means over 11,000 of their colleagues will lose their jobs," he said. "We have reached out to BHS to let them know we have over 4,000 vacancies available at the moment and offered any support we can to help these colleagues find alternative work.
"BHS has circulated Tesco vacancies throughout its organisation with supporting instructions on how to apply on our website.
"We'd also like to do more locally so I have attached the list of BHS stores and contact details, and I would encourage contacting BHS stores within your cluster/region, whether it is the store manager or the people manager, and offer them support.
"If your cluster has a large number of vacancies you may even want to run your own recruitment assessment day for all the stores in the cluster."
It said it was hopeful the vast majority would accept changes to hours in their existing stores, or be able to transfer to night shifts at nearby stores, though the retailer said redundancy was a "last resort" option being offered.

Tesco retail director Tony Hoggett said the changes were aimed squarely at improving customer service, and said trials had shown a positive impact, with more staff in the aisles during business hours.

Hoggett said Tesco had realised it was not a sensible way to conduct business by having stores open at night, sometimes with "only one or two customers in the store".

The Grocer revealed in February that Tesco would look to extend its cutbacks to night-time operations, along with other cost-saving measures, as part of what it described as a "recalibrating" of its store line-up.

"Customers are changing, shopping habits are changing and the competition is changing and our service models have to change over time to reflect that," explained Hoggett.

"What we found is that moving from night-time to twilight hours has a positive impact on customer service whereas when these stores are opening for 24 hours it can mean that you're not at your best when you are at your busiest. At the trial stores we have seen that service has improved noticeably on all measures.

"This is absolutely not about saving money, That's way down the list versus increasing morale and looking to improve service for customers, which is my main job and something we've done very well over the past two years."

Tesco will be left with just over 300 stores open for 24 hours, though Hoggett said it would be continually reviewing its service model.