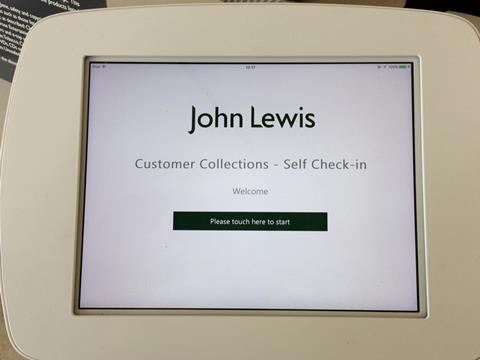 Waitrose is looking to cut click & collect queues this Black Friday with the rollout of a self-service check-in across 140 branches.

The new system, which will enable customers to register their order number on iPads at the welcome desk on arrival rather than waiting in queues, rolls out this week ahead of the event on 24 November.

In another queue-busting move, customers will receive a barcode as part of their order collection notification that staff can scan instead of manually entering the order number across all Waitrose branches.

The changes will primarily help deal with the large volume of John Lewis click & collect orders, of which 70% are picked up from Waitrose stores, but will also be available for customers ordering from Waitrose Cellar and Waitrosepet.com.

Last year, a number of grocers faced large queues for their click & collect services over Christmas as they experienced record demand, and John Lewis, Sainsbury's and Tesco ran out of slots.

Waitrose experience development manager Glenn Cox said click & collect was "hugely popular" with customers and expected numbers to increase again this Black Friday and Christmas.

"Checking in to collect an order is the first thing many shoppers do when they visit our stores and can set the tone for the rest of their experience with us, so introducing the option of a self check-in system will ensure they enjoy the best possible start to their shop," he said.