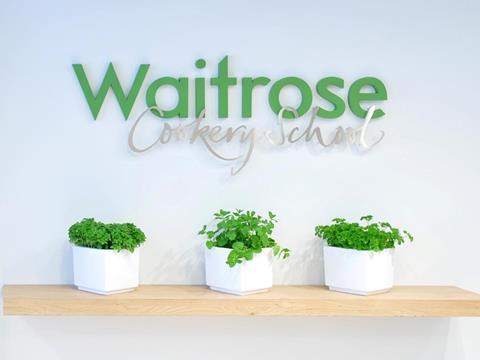 Waitrose is to introduce cookery classes led by staff, who will share their knowledge, advice and guidance in their specialist area.

The hands-on workshops are designed to give customers insight into staff's specialisms, including nutritional advice, animal welfare and wine pairing.

They range from £35 to £75 per person, and will take place across Waitrose's Cookery Schools at its Kings Cross and Finchley Road branches in London, as well as its Salisbury store.

The first class is a chocolate workshop on Valentine's Day, which will be led by the upmarket grocer's chocolate buyer Kate Kind. Attendees will be able to ask Kind about her role, temper their own chocolate bars, create a hazelnut and chocolate spread, and make chocolate smores under the supervision of the Cookery School chefs.

The class takes place between 12 noon and 3pm at Waitrose's King's Cross store, and costs £75 per person.
The next course focuses on the link between diet and mood, while chefs demonstrate recipes related to each topic for customers to taste. Hosted by senior nutritionist Emma Williams, the Mind and Mood sessions will be on 19 March, 9 April and 23 May at Waitrose's Finchley Road, King's Cross and Salisbury stores respectively.

They will cost £35 per person and take place between 6.30pm and 8.30pm.

Waitrose head of wine buying Pierpaolo Petrassi will lead a workshop on wine tasting at its Finchley Road Cookery School for £35 per customer. He will share his knowledge of wine and match wines to chef-cooked dishes between 6.30pm and 8.30pm on 29 March.

Andy Boulton, buyer for meat and fish counters, will host two classes focused on cooking the perfect steak. These will take attendees through the importance of animal welfare and Waitrose's long-standing relationship with supplier Dovecote Park. They will then learn how to cook rib-eye steak with triple-cooked chips, pepper sauce, bone marrow butter and roasted mushrooms.

This will be followed by a sit-down meal to enjoy the dish with matched wines, followed by dessert prepared in the Waitrose kitchen.

The Perfect Steak classes take place from 6pm to 8.30pm at the Salisbury and Finchley Road branches on 26 April and 15 May respectively. The first is £55 and the second is £60 per person.

The classes can be booked on Waitrose's website.