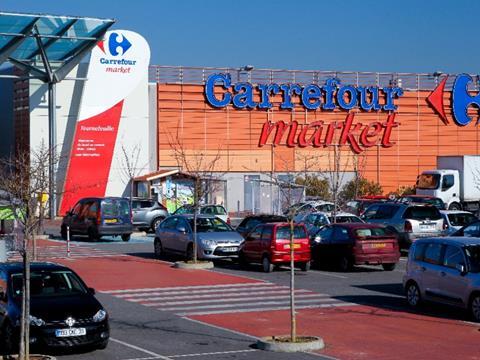 There were seemingly contrasting fortunes for two French supermarket giants this week as Carrefour and Casino both issued second-quarter trading updates.

At Carrefour, total sales for the first half to 30 June increased 5% to €42.3bn (£27.1bn) compared with a year ago - 2.9% on an organic basis - with international growth far outstripping the domestic market. Organic growth in France in the first half was 1.8% and 3.7% internationally.

Casino reported a 1.5% fall in headline second-quarter revenues to €11.8bn, representing a fall of 2.2% on an organic basis. However, Casino said sales were hit by a negative currency effect of -2.8% and analysts at Espirito Santo agreed the group was showing "a brave face" despite these tough macro-economic conditions. "We do not believe Casino is a short at current levels driven by its poor relative performance and already weak currency developments in Brazil and Colombia driven by the weak commodity cycle," the broker said. Casino shares were up 3.7% to €71.57 in Paris on Thursday morning.

Espirito Santo said Casino was suffering from the competition of Carrefour in France and Brazil, but Carrefour isn't having everything its own way. Its shares were up 2.5% to €30.90, but Bernstein analysts noted its French growth more than halved in the second quarter (like-for-like growth of 0.5%). Bernstein cautioned: "It remains very exposed to unattractive formats (hypermarkets, supermarkets) in unattractive retail markets (Western Europe, France, China)."

Elsewhere, Dairy Crest slipped 0.8% on Monday to 561.2p following a Q1 trading update showing strong growth for Cathedral City and the cheese business but more trouble in a difficult spreads market. The shares had rallied slightly to 562.9p by Thursday morning, with Jefferies noting a resolution to the CMA's investigation into its milk division sale could help the shares. "We view the willingness of the CMA to give serious consideration to these undertakings as a positive development," the broker said.