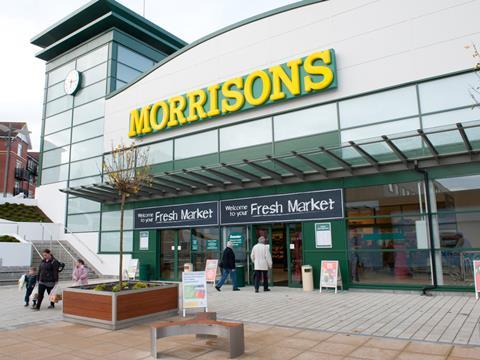 Shares in Tesco and Morrisons shot up this week after data showed the beleaguered supermarkets enjoying significantly improved sales, but a deeper examination suggests any recovery for the pair remains fragile.
Tesco looked the big winner from this week's Kantar Worldpanel data, with a 0.3% sales rise for the 12 weeks to 1 February representing its first till roll growth since February 2014. Similarly, Morrisons' 0.4% sales decline was comfortably better than any result it recorded in 2014.
Tesco shares leapt 3.6% on Tuesday to 241.5p, while Morrisons' rose 3.4% to 187.8p on the news, but both companies saw prices dip on Wednesday on concern their recoveries may not be as robust as the figures suggest.
For Tesco, the 12-week figures include a bumper Christmas for the retailer and the contribution of significant general merchandise sales on black Friday. As such, Kantar's previous four-week data showed Tesco clawing back its first market share gain for two years, but it was unable to maintain this momentum in the past four weeks, with share dropping 0.1 percentage points to 28.6% while four-week sales growth slowed from +2.1% to +0.8%.
Tesco is also beginning to benefit from easier ­comparatives as its 12-week sales were already falling by 0.4% in the corresponding period last year. Bernstein analyst Bruno Monteyne noted that on a four-week basis Tesco "has not managed to keep up the positive market share gains shown at Christmas", but he added that Tesco was still ahead of where most would have expected the recovery to be.

"Tesco results were clearly not simply a Christmas miracle caused by heavy advertising and unsustained price cuts, this looks ever more like a sustainable recovery," he said.
If the easier year-on-year comparisons do not totally negate Tesco's improving sales, the picture is starker for Morrisons. The supermarket is flattered by even more generous 2014 comparatives as its ­12-week sales fell by 2.5% in the corresponding period last year and its comparative underperformance goes back further still.
Shore Capital analyst Clive Black said: "The two-year comparisons are very weak indeed, and so current momentum is still mellow to our minds".
On the other hand, stronger early 2014 performance by Sainsbury's and Asda is hurting their current momentum. Sainsbury's 12-week sales were down 1% year on year and Asda's by 1.7%, but these were against growth of 2.7% and 0.5% a year ago.
As such, despite the headline figures, Sainsbury's and Asda are not necessarily suffering more than their competitors, just that their respective sales were slower to tail off last year.
However, Asda is likely to be concerned by its 0.5 percentage point market share loss, with Monteyne suggesting the supermarket could be the chief victim of stabilising sales at Tesco.

Meanwhile, the plateauing of the growth of the discounters continues with Aldi 's 18.3% four-week sales growth less than half the 40.2% it achieved in May last year and Lidl 's 12.8% growth well down on its peak of 28.9% recorded in May 2014.